ABIA GOVT HOUSE SHOOTING NOT BOKO HARAM - CP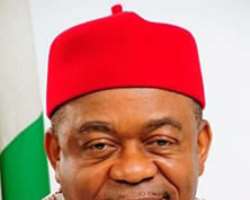 Chief Theodore Orji.
Abia State Commissioner of Police,  Mr Bala Hassan has said the shooting on Tuesday in the state government house, which left Corporal Clement Amaechi dead and Corporal Umoru Mohammed wounded has nothing to do with the dreaded Islamic sect, Boko-Haram.
Both policemen were security details of state Governor, Chief Theodore Orji.
The CP said he was attracted to the shooting, which was close to his house along Okpara Avenue, which made him to detail his men to find out what was happening.
While denying any link  with the Boko-Haram  currently operating in the northern part of the country, the police boss said, 'it is like saying that I am a member of the religious sect because I am a Muslim, no, there is no link.'
He alleged that Mohammed had carried his rifle and started shooting into a building housing three families, including his dead colleague, Corporal Amaechi at 19 Okpara Avenue.
He explained that senior police officers 'disarmed the policeman while he was attempting to take another rifle for more shooting. He was wounded in the process.'
The Abia CP said Mohammed was later taken to the Federal Medical Centre (FMC), where he had a successful surgery. He said the police authorities would try him at orderly room to know the cause of his action.
He described the action as an isolated case, which had never happened since he joined the force 29 years ago, adding that he hoped it wouldnever happen again.
However, Corporal Muhammed is said to have denied shooting anybody. Rather, he was quoted by sources as saying he was a victim of  violent  shooting allegedly done by a highly placed police officer in the government house, Umuahia.
A source said the revelation  had sent fears into the spines of Federal Medical Centre staff and doctors, who were now wondering if they were not stepping on toes of some powerful people, who would have wished that  Muhammed had  died.
The fear being expressed was that if what Muhammed was saying was true, they would have wished that he died instead of being alive to open can of worms, which would consume many of them.
For this reason, the medical personnel are apprehensive that attempt could be made to silence them for trying to make him live or silence Muhammed  to stop him from speaking too much.
A reliable source said there was a lot of apprehension and 'hush-hush talk going on among some people, who came around showing that Muhammed's singing had sent fears into some people that he might put them into trouble.'
The hospital source said the medical workers wondered why those, who could understand Mohammed's language (Hausa) were removed and those, who could not understand him were brought in by the police to provide security for him at the medical centre.
Meanwhile, security has been beefed up around him, as preparations are being made to transfer him to the general ward, since he was out of danger from the surgery, which he went through at the intensive unit of the medical centre .
The new measure was taken when it was discovered that Muhammed, who seemed to have been talking too much in Hausa language mentioned that he did not kill anybody, rather, it was a senior police officer , who shot and killed the slain Corporal and also shot  to kill him.
Muhammed has been at the  intensive unit of the Federal Medical Center since Tuesday morning,where he was operated upon to save his life from the bullet wound he sustained from those who shot him in order to demobilize him from causing more havoc, after he had allegedly shot and killed his colleague
Daily Sun gathered that the shooting was linked to the  sharing formula of the N2.5 million largesse given to the police  by Governor Orji .