AGBANI DAREGO CONFESSES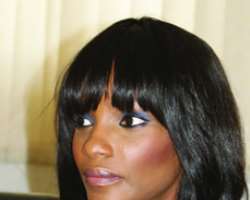 For ex-beauty queen, Agbani Darego, there is life after Miss World. In spite of all her achievements, the slim but pretty model seems not satisfied with her life. After conquering the glitzy world of modelling, she feels not complete without a sound education. Agbani, who hails from Abonnema, Rivers State, was crowned Miss World in 2001 and had to drop out of the university to concentrate on her reign as a queen. Now, she's back in school, and she's a final year Psychology student at New York University. Agbani is definitely eating her cake and having it. Few minutes after being unveiled as Arik Air ambassador in Lagos on Monday, Blockbuster cornered the catwalk diva and she opened up as she has never done before. It's vintage Agbani Darego! Enjoy:
On being first black Miss World
For me, it is a huge blessing to be the first Black African to win Miss World. I think I was fortunate enough to be at the right place at the right time, and to have God on my side. To be able to achieve such a thing at a young age, I am thankful for that everyday. And I do agree that the modelling industry has grown since that time, but like any other industry I don't want to take all the glory by saying that just because of me, it is what it is today. I do understand that I am a part of that growth and am very happy to be part of that growth.
Home, sweet home
I am at home quite often and obviously I will still come home more often. One thing you may not know is that I am studying Psychology at New York University and I am in my final year. So, when I finish in school, I want to spend more time at home. It makes more sense for me to be at home.
Proud woman
I am very proud of the woman that I am. A friend of mine said something interesting the other day. She said everyday she is growing up to love who she is. She said she is growing up to love every second of the woman she is going to be. And I said to her that I am proud of what I have become and am also proud of where I am heading to.
What keeps me going
I have come to realize that we all have to be healthy; we all have to be aware of what we put in our body, not necessarily to achieve a slim look but for health reasons. On a daily basis, I try to make sure that my nutrition is right, so also my workout routine. Like every lady, I wake up and clean my face and then moisturize. Of course, I make sure I protect my face with a sun screen or something.
What I cherish most about my person
One thing most people don't know is that I am a very shy person. I don't know if I cherish that most but it keeps me at home and brings me down to earth. I am glad I am able to achieve that even with all the craziness around me.
Greatest moment
Every day, I am grateful for who I am. I am grateful for being me, I am happy that with all what I have achieved I have been able to go back to school. I am studying and still working hard, and the journey continues for me. I can't specifically say that one moment is greater than the other. Winning Miss World competition was great but I can't say it was my greatest achievement because I know there is a lot more coming my way.
Low moment
We all have our low moments but what makes us a better person is that we learn from those low periods and build on that, and go on to become greater people from that experience.
On marriage and heartbreak
No, I am not going to talk about whether I have been heartbroken or not. It is too private an issue. When would I get married? I guess I would find out whenever someone asks me to marry him then I would let you know. Am I dating anyone now? I think my private life should be my private life. Well, the ring that I am wearing is just a fashion jewellery that I like to wear. No, it's not an engagement ring, it's just a jewellery; there is nothing special about it.
On being Arik ambassador
I am the first brand ambassador for Arik Air and I am excited and pleased to be a part of this family, which is a world class brand. Hopefully, down this journey till next year they will promote me as much as I promote them. I will promote Arik to the best of my ability for the fact that it is a world class brand
Happy with Arik
Nigeria has come a long way in terms of endorsement. I am glad and pleased with this contract of mine. Yes, I believe Nigeria is meeting up with the international standard. It's for me to know how much the contract is worth. I am happy with what Arik has offered me on this deal.
Roles as Arik ambassador
The first thing we are doing is to do a photo shoot and I am looking forward to that. In the next few weeks, you will begin to see images from that photo shoot including advertisements in the newspapers. From there, we will take it as we go. By definition I am a Nigerian. I embody the Nigerian character so I can't specifically say this is the Nigerian character I am going to bring to the Arik brand. I am a Nigerian supporting and promoting a Nigerian brand. It's a perfect marriage. Who else could do it better if not a Nigerian?
Joy of modelling
To be honest, being busy is part of the joy of modelling. I do the job because I love it. If I don't love my job I would obviously be in the wrong game. I don't think I would quit modelling anytime soon because I hope to expand my brand beyond being Miss World or a model. That's why I am greatly honoured to be a part of the Arik brand as an ambassador. I am also greatly honoured that Nigerians supported me when I won the Miss World competition, so this is my own way of coming back to support the brand that supported me in the past.
On cancer scourge
Eventually when I move back home, I am going to set up an NGO that would not just target Nigerian women but African women at large. As you know that my mum had breasts cancer and passed away when I won the Miss World competition. So, tackling cancer is definitely a cause that is close to my heart. I think I should be able to help people. Education is key, if we do the several tests that we should be doing on yearly basis, perhaps, cancer won't definitely lead to death. As an individual, what I can really do is to promote the education on several diseases so people will know what to look out for and address them when they have the symptoms.
Most precious gift
The most precious gift I have received from anyone is my life and it is from my parents.
My kind of man
I don't care what you look like. If you can make me happy, then you are my kind of man.
On Nollywood
Artistes are generally talented people. I admire them for what they do. I don't know if I would have the courage to do what they do and put myself out there. But don't ever say never, who knows if I will act in movies at some point, someday?
Favourite artistes
I have been listening to Sade Adu in recent times. I am a big fan of Dr. Sid here in Nigeria. D'banj and Tuface are also my favourite artistes and I am proud of what they have achieved in the past years. Those are probably few names you'll find on my ipod.
Yoga addict
I work with a trainer in New York to maintain my physique. I am also a big fan of yoga.
On posing nude
My body is not for sale so, I can't pose nude for any amount. I remember the topless pose you are talking about. That question has always been asked me and my answer is the same. It wasn't perfect. It was just a dress mal-function and that's what it was. No, I would never deliberately put myself in such an awkward position.
Advice to young models
Believe in yourself and keep trying. Don't ever follow someone else's path, define your own path and go for it.