THE LONELY TRUTH ABOUT MIDDLE-AGED DIVORCE: HOW FINDING A NEW PARTNER MID-LIFE CAN BE SOUL DESTROYING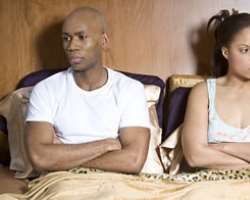 Miriam Gray endured 13 years of upheaval and heartache before concluding that it had all been worth it. During that time, she had moved 100 miles from the home she loved and spent a decade eschewing all men for fear of having her heart broken again.
And yet, ask her today and she will insist that divorce was the best thing that's ever happened to her. For she has since met Mark, who she describes as her one true soul-mate.
'It's hard to define why we clicked,' says Miriam, 54, 'but perhaps after one marriage and four years of dating, I was better equipped to judge a good man. Mark is kind, patient, loving and completely selfless. We share interests like going to the theatre, travelling and cooking.
'But I had to go through the mill to find happiness. My husband and I divorced in 1996 after he left me for one of my work colleagues. I couldn't bear to stay in Hertfordshire, where we lived, so I left my friends and family and moved to Hastings to start afresh.
'Initially, it was devastating to be single in my 40s. Give or take a few sporadic dates, I spent more than a decade on my own.
It was only in my 50s that I started dating properly and another four years before I met Mark on a dating website, Parship.co.uk.'
Miriam is certainly not alone in facing these challenges. There has been a seismic shift in the institution of marriage. In just six years, between 2002 and 2008, the Office for National Statistics estimates that the number of divorced women over 45 has jumped by a third.
There are well over 1.6 million middle-aged and older divorcees in England and Wales.
In the first part of this series, we found out how these mid-life singletons tackle the novelty of dating and having sex with new people. But how do they fare once the dust of divorce has finally settled?
Can women ever really get over it? And how likely are they to find lasting love second time around?
Or is it possible that modern divorcees, having devoted much of their lives to a man and bringing up kids, prefer the peace of one in a bed to the compromises and quarrels of two?
From the dozens of women I've spoken to, and from surveys here and in the U.S., one thing is clear: women are remarkably resilient.
While some may never recover, the majority pick up the pieces and refuse to give in to self-pity.
One survey conducted earlier this month, for which 1,000 women were interviewed, emphasised how much more independent women over 50 are compared to their mothers' generation.
Almost half had opted to learn a new skill after reaching 50, with computer courses, a foreign language, cooking and salsa dancing among the most popular.
These are just some of the ways women slowly re-build their self-esteem after divorce. Contrary to popular belief, if finding new love is an issue, it's not necessarily the priority.
Middle-aged divorcees: Can women ever really get over a divorce? And how likely are they to find lasting love second time around?
Middle-aged divorcees: Can women ever really get over a divorce? And how likely are they to find lasting love second time around?
When AARP, the largest membership organisation for the over-50s in the U.S., polled 2,500 single women over 45, myths exploded like fireworks.
More than half said they were happier than they had ever been. And while the majority were open to the idea of a good relationship, they weren't obsessed with finding a new partner.
Thirty-one per cent of the women interviewed had since found themselves in an exclusive relationship, 32 per cent were dating non-exclusively and around one in ten had no desire to date at all. Fourteen per cent said they'd date the right man if he came along, but weren't going to knock themselves out trying to find him.
Counsellor Keren Smedley says: 'So many women say to me that it's lonelier being within a lousy relationship than being on their own.'
And it is these women – who have been in unhappy relationships and have chosen to leave them – who often recover more quickly from divorce later in life because the grieving has been done by the time the marriage is finally over.
The AARP survey also contradicted the belief that as women get older they want to slow down and get a few more cats.
Over 63 per cent say that getting older, with grown-up children who are financially independent, gives them a chance to pursue their dreams and do things they've always wanted to. And 80 per cent agree that as they've grown older they're more free to be themselves.
Charlotte Friedman, a former barrister specialising in family law, retrained as a family therapist and two years ago launched the Divorce Support Group to help people work through the psychological and emotional impact of divorce.
'Once the door is shut on people's relationships, they are left not knowing where to go for help,' says Charlotte. 'When I started, I didn't know who would come through the door, and I was a little bit surprised by the large number of people in their late 40s, 50s and 60s.'
Many were empty-nesters grieving not just the end of their relationship, but no longer having children at home as well. Such has been the demand for Charlotte's services that divorce supportgroup.co.uk is being franchised across England.
Whereas the ultimate aim of the groups – taking a ten-week course – is to give individuals a better sense of independence and an ability to take control of their lives, it is also an opportunity to share all the emotions from loss to anger to fear about the future.
'Divorce may be an end, but it can also be a new beginning,' says Charlotte. 'In the first week, the participants might be saying 'I'll never have a relationship again'. By the tenth week, they may be laughing about going on dating websites. And having men as well as women there is important. It's very powerful to hear about experiences from the other side of the fence.'
PR consultant Jane Shotliff, 51, separated more than four years ago, but because she and her former partner David are still wrangling over the financial settlement, her divorce has yet to come through. Jane, who lives in Maidstone, Kent, has two daughters, aged 13 and 22.
She says: 'Although I'm in debt for the first time in my life and sceptical about the single, middle-aged men out there, I have no regrets about ending my marriage and no fear about being on my own.
'I wish I'd left ten years earlier instead of wasting the best years of my life on a marriage that made us both miserable.'
Whereas Jane used to think it was essential to have a man, that is no longer the case. 'I've tried everything from speed and internet dating to allowing friends to fix me up on on blind dates, but since my marriage ended I've only met one man I have a spark with and he belongs to someone else. It's harder dating in middle age because I have my own home and my independence, which I'm not prepared to sacrifice.'
fighting
Jane also acknowledges that as you get older, you sometimes grow more selfish and more set in your ways. 'I find it easy to make friends,' she says, 'but not to go that extra mile and make any kind of commitment. Also it can be a challenge to fit dates in between caring for my daughter and having a generally busy life and career.
'Maybe I'm purposely avoiding getting too deeply involved with anyone. But I'm honestly quite happy with my life – even on my own.' For other divorcees, looking on the bright side comes less easily. Barbara Mills, 55, who lives in Essex, took a lot longer to find her feet after her husband walked out.
'The moment my husband left me, I fell apart,' she says. 'We'd been married for 25 years and I didn't see it coming at all. What made it so much worse was the fact that he was having a relationship with a younger woman. He'd met her through his work in finance and they went on to marry.
My confidence was on the floor, and it is no exaggeration to say that I was suicidal at the time. I had to have counselling, and it has taken me a long time to rebuild my self-confidence and get my life back on track.
'Things hadn't been good in our marriage for a while, but I thought we would work through it, that we would always be together. I believed that marriage was for life. We had a very normal, middle-class marriage – my ex-husband worked and I stayed at home to bring up our three children.'
In her 40s, Barbara had suffered from a hormonal imbalance, and underwent a hysterectomy. Their love life had suffered as a result and her husband spent more and more time away at work until he dropped the bombshell.
'Afterwards, I found it very hard to be alone. I felt unwanted, frumpy, old. I retreated into my shell and didn't want to go out at all. I spent my nights crying and I really think I might have done something stupid if a friend hadn't rung me at a crucial time.'
Barbara adds: 'Since then, I've tried speed dating, just for fun. I have two very close male friends with whom I go to the theatre and out for meals. But I am very fussy.
'I am not going to leap into bed with anyone. Now I have a very full life with my grandchildren, and I am happy, but it's taken me years to get to this point. You cannot brood indefinitely – you have to move on.'
Noorie Parvez, 51, from London, had been married for 16 years when she divorced at the age of 39. 'At first, everything seemed exciting,' she says.
'The stress had made me lose two stone, which was actually a bonus as I had this fantastic figure. I got myself a new haircut, swapped my Victorian family home for a contemporary flat and was determined to start afresh. When I went out with friends, to my delight, I received lots of male attention.'
Five years later, Noorie fell for a 53-year-old widower called Derek. 'He was a musician and I instantly felt he was special,' she says. 'Within 18 months we were married – it was a real whirlwind.'
But no sooner had they embarked on life together than things began to go wrong. Just six months into their marriage, Derek decided he wanted to leave. Noorie reflects: 'I was devastated. It's only now, looking back, I can see that perhaps he just wasn't over his first wife. That is the problem when you're older – you have so much baggage.'
Some might wonder whether Noorie's second ill-fated marriage was, in fact, just another symptom of her first divorce. Now, 12 years on, she's back to where she started, living alone.
'I don't enjoy the actual process of dating,' she says. 'I haven't slept with anyone in two years. I am choosy and I can't have casual relationships. But I still long for that special someone, a soulmate.'
Indeed, the grass is not always greener. For some, starting over is an exhilarating opportunity; for others, it will always be second best. What's absolutely clear is that with age no longer a barrier, divorce rates in mid-life will continue to rise.
Today, putting up and shutting up is not an option for most of us. But while few of the women I have spoken to will admit to regretting divorce, how many of them have truly found lasting happiness? Only time will tell.
Courtesy: Daily Mail