DON'T TALK ABOUT MY EX-HUBBY, BEGS KENNY ST BROWN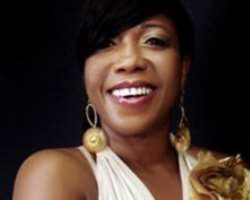 Divorce is such a horrible experience many people would not even wish their enemies. After more than two years of separation from ex-hubby, Eddy Montana of the defunct Remedies Group, Kenny St Brown may not have overcome the trauma contrary to reports that insisted she has moved on.
Recently, Kenny was sighted at the launch of the DJ's Association of Nigeria, DJAN, held in Ikeja, Lagos, where Shwotime Celebrity engaged her in a chat. But she would not stand the mention of her ex-hubby's name Eddie.
Read on…
Why are you at this event?
I really thank God for the life of these DJ's. You know they have brought a lot of celebrations into lives, into homes, they brought a lot of celebration to the lives of musicians, they've brought a lot of content to the radio and television and other media channels.
Yet they have been grossly neglected and so now that they have come together to be one, it is now time for them to be put in the position that they belong. Just look at hip hop music, five or ten years ago, there was nothing for us, even me rebranding, music then wasnt speaking one language. It only the DJ's who had the enthuaism, the energy and they have been able to pull through and remain relevant all these years. I am very happry for them.
Many of these DJ's work with radio stations, many will think your support here is a facade; that your attending the event to persuade them into playing your songs more often?
That's ridiculous! It would be selfish to think they are only going to be playing my songs. They can only give me five minutes in their whole segment of hours. That couldn't translate into me taking over air play with my songs.
Even without me being here they have been doing that. It's just that it feels good when you know there is symbiotic relationship. You know artists are, selfish, forgetfull, ingrates if I could call them that, but we from Kennis music stables want to tell them that not all artitste are like that. As we go up, they deserve as DJs to go up too. This is why we are here to support them because they have been here before we got here. When we go they will still be here.
They deserve to go up, they deserve branding themselves. Thank God for DJ Jimmy Jat, he has done so well. But we think that there should be more diffusion here. Corporate bodies should stop cuing behind one DJ until he has time before they can do shows. There are a lot of other DJ's out there that are equally very good. Jimmy is a land lord in Lagos, I believe the others too deserve the same, they should be smiling to the banks as well. They don't have to be on the radio chanting their names, majority of them are street Djs, they deserve all the patronage and support they can get.
Let us move to your music career now. What's on the table for you now?
What's next for me now is the fact that I have rebranded from mainstream church Gospel to street gospel. That is; taking the gospel from the church to the streets with my song; reaching the unreached. It is not everybody that you put on serious gospel tunes that get tuned to it. Most times, you have to do it in their own language, in the way they know it, in their own way of life. You catch their attention so that they can work with the content of the song and that is why I first worked with Dagrin. He is a street boy; he helped me take my work to the streets.
I later worked with Ice prince in a song called 'Alaye' - now that is a street language. I also just released a video, a few weeks ago with TerryG. It's a swagger. And the song is called 'Mo ti gun oke' It's a victory song. I called it double swagger and guess what we are preaching, if your God dey dull you, then try our own God, he is Jehovah el Swagger (laughs). All the youths know understand is swagger swagger. If that is the language, I want to sell God to them that way then. I also did another song with MI called Suger suger, and with Eldee called Live your life. These are the videos I want to drop before the year runs out.
We hear you have a new company?
Yes the company is called Eva laviva. It is a comapny I set up to take care of all female entertainers including female Djs. Our female entertainers are not getting the patronage as they should get.
Look at girls in Nollywood girls getting all the patronage and branding but then it is the singers that are getting all the national and international awards. MTV Base, MAMA, Channel 0, Soundcity you name it and they are not getting patronage like that. Sasha, is right now MTV Base Africa number one female artiste, yet you won't see someone branding Sasha. Ok, Mocheda got a very small branding from a hair company but this is a girl with a Channel O awards, as the MTV base new female artiste in Africa, no one is getting celebrated for it.
No government has called them to office and said this is the reward. No recognition anyware. When Kanu was footballer of the year, he was given an award. This is exactly what Eve laviva wants to cater for; to bring about that visibilty and create that positive image that will bring about the patronage and honour to our female entertainers. It's not a Kenny St brown thing, it's what my heart cry out for that the girls be celebrated.
Let's go more personal now, how is your daughter?
My daughter is great, she goes to school with her brother.
How is their relationship with their father?
(Composure changes, she angrilly shakes her head and gives a 'NO' hand sign) That is not part of why we are here.
We know but…
That is not why we are here.
You don't want to talk about Eddie for any reason?
I don't. Definitely.
We just want to know how the relationship has been between them and their father?
I can only be a mother, I can't be both mother and father. As a single parent, you can only be a mother. You can't both. God can give you the grace to cope by making the resources available and so you are aome how able to play the role but when it comes to the emotional feeding, that balances up parenting where there is a mother and father, it just isnt there. In terms of the connection, I can only be mummy, I can't be daddy. It the way things are for now.
Eddie has said he wants you back, can you comment on that?
I'm walking way.