Allison-Madueke's anti-Exxon Crusade triggers mass Disinvestment by Oil Majors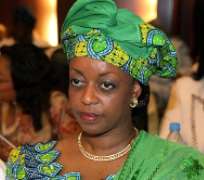 The decision by former Oil Minister, Diezani Allison-Madueke not to recognize the renewal of the ExxonMobil licenses negotiated by Henry Ajumogobia has forced the oil majors to consider a mass disinvestment from the Nigerian oil sector, Huhuonline.com has learnt from informed sources in the industry. It has now emerged that the main reason why Allison-Madueke refuses to recognized the Exxon licenses is to smear and discredit Ajumogobia, who is tipped to replace her as Oil Minister in the new cabinet, having served in that Ministry before his re-assignment to the Foreign Ministry portfolio.     
According to our sources, several Western oil companies active in Nigeria are thinking of copying RoyalDutch/Shell in putting their holdings on declining onshore fields up for sale before the end of the year. For its part, Shell is already toying with the idea of also putting its stake in OML 11 in the Ogoni region on the auction block. That transaction would take place after President Goodluck Jonathan's long anticipated announcement of his new cabinet and it will depend on who is appointed as Oil Minister.        
The planned mass disinvestment by the oil majors is also blamed on the decision by Allison Madueke who ordered the Nigerian National Petroleum Corporation (NNPC) to exercise its right of first refusal on the blocks that Royal Dutch/Shell recently sold, and to also mull the sale of licenses that it confiscated from Shell in 2008. All of the oil companies which acquired the stakes of Shell, Total and Agip on OML 30, 34, 40 and 42, did so in thinking they would operate the blocks as Shell had. The prospect of becoming a minority shareholder and having NNPC's decisions on development imposed on them raises uncertainty and could equally prevent Shell from selling off new stakes in the Niger Delta, as it wants to do.        
After some last-minute maneuvering at the end of April, Conoil obtained Shell's stakes in OPL 30 and the Neconde consortium obtained OPL 42. OPL 34 sold previously to a tandem comprising Niger Delta and Petrolin, while OPL 40 considered the least oil-rich acreage in the sell-off, went to Eland Oil headed by Leslie Blair, a former Addax executive, who put in a last minute bid of $150 million to outbid Vertex Energy, which offered $125 million. Eland was joined by Starcrest Energy, one of a string of companies owned by businessman Emeka Offor, partner of Addax on OPL 291. Vertex's bid was financed by African Capital Alliance; a Nigerian equity fund set up in 1997 by Richard Kramer and Okechukwu Enelamah who both previously worked for Arthur Andersen Nigeria.         
Allison-Madueke's determination to take over blocks recently sold by Shell has sown panic among the new owners. This has created a propitious scenario with the Federal government facing an avalanche of law suits by the oil majors who are considering a massive disinvestment should the President re-appoint Allison-Madueke as Oil minister. Besides ordering the NNPC to exercise its right of first refusal over the oil blocks sold by Shell, Allison-Madueke has also incited the Nigerian Petroleum Development Corporation (NPDC) to take over operation of several blocks; a move the oil majors consider as de facto nationalization by proxy.        
Huhuonline.com understands that Allison-Madueke had ordered that OPL 72, 74 and 77, which were confiscated from Shell in 2008 be sold. The Nigerian authorities refused to renew the licenses arguing that Shell had insufficiently explored them. But Shell vigorously contested the Minister's decision and filed suits in London and in Nigeria that are still pending and the ongoing case could complicate any efforts to sell the permits. OPL 86 and 88, which were seized from Chevron in 2008, could similarly be sold off. Chevron, which has also taken legal action against the NNPC, is opposing any attempts to sell the permits.        
An Oil Ministry source who elected anonymity for obvious reasons, told Huhuonline.com that Allison-Madueke is just posturing. Her main contention is that she too wants a share of the huge bribes that accompany such negotiations of renewal of licenses and contracts.   After Niger Delta Ltd on OML 34, Afren   has also expressed serious reservations about the NPDC's decision to become operator on OML 26. The British company bought OML 26 from Shell through its Nigerian subsidiary First Hydrocarbons.       
Thanks to funding from Seven Energy, NPDC has already confiscated the role of operator on OML 3, 38 and 41, bought from Shell last year by Seplat, a company in which France's Maurel & Prom owns 45%. The process through which Allison-Madueke chose Seven Energy as NPDC's financial partner without competitive bidding is wrapped in secrecy. Chaired by financier Phillip Ihenacho, Seven Energy is 24.5% controlled by the United Arab Emirates group Petrofac and counts several major investment funds such as Capital International Private Equity Fund, Standard Chartered Private Equity and Africa Finance Corporation among its stakeholders.       
The group has been trying for some months to finance another operation, namely NNPC's pre-emption of the operator's role on OML 30 and 34. If the new owners of acreage acquired from Shell can't be operators, the price they paid was far too high as they won't have any say in development decisions affecting their blocks. This has put Allison-Madueke on a collision course with the oil majors who have now joined the 'Allison-Madueke Must Go' campaign.        
An ExxonMobil source who elected anonymity for obvious reasons, said Exxon would prefer to see Allison-Madueke out as Oil Minister. He questioned the legality of Allison-Madueke's decision not to honor engagements made by her predecessors, which he said was symptomatic of the chaos and confusion that she installed in the oil sector. 'What does she intend to achieve with all this public grand-standing? First, it was Shell; then Chevron; and now it is Exxon.' He warned that her actions are causing Western oil companies to have second thoughts about making further investments in the Nigerian oil sector.