NUDE PICTURE NOT MINE-EMPRESS NJAMAH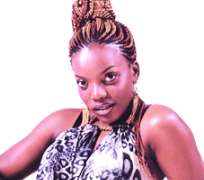 There is a storm brewing over an alleged nude picture with the semblance of ebony actress, Empress Njamah, flying all over social network sites and blackberries.
The picture shows two adults, a female with apt facial resemblance of Empress, with her mouth between the legs of a man whose face is also buried between the legs of the woman. The graphically explicit picture went viral immediate it was on online and has been generating comments for and against.
Reacting to the development, Empress, who has been in Abuja for a while selling new hair products - attachment and wigs - flew into Lagos to clear her name. 'I am here to show people my body and let them know that the person in the picture isn't me,' she told Showbiz Now.
A critical look at the picture, which cannot be published due to its explicit nature, shows a difference in texture and colour of the skin. However, it is subject to expert's analysis.
Njamah's publicist issued a statement saying the person in the picture is not the star actress. The statement reads: 'The attention of our client, star actress Empress Njamah, has been called to the devious and wicked photo-shop pictures of her being circulated on the Internet and various BBM messages posted in the last few weeks.
Ordinarily, she would have ignored these pictures, but sometimes silence, they say, means consent. Our client in the last few weeks had buried herself in work and had been busy with some big projects, which had made her missing from most social events and circulation, because of her determination to make 2011 the most productive year of her career.
'This is to assure her numerous concerned friends, fans and family that the picture is not hers. A look at the diabolical picture shows a tripod light stand, and if you look well, you will see that the only part of the picture that is blunt is what is supposed to be her face. If you ask those who have seen her body, they would tell you she does not have a single tattoo, just a birthmark. We leave whoever has been circulating these pictures to their conscience, while she concentrates on building my career and business, which is doing well now.
'Empress Njamah views this as distraction and would not respond further to these because her energy is for bigger and more productive issues. Therefore, unless there is a proof that the picture in circlation is her, this would be her last reaction to this disgusting picture.'