I Never Get Tired Of Doing Make-up On My Face - Funso-Adebayo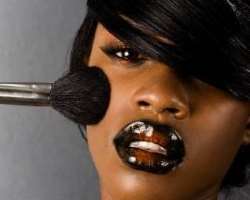 Dorcas Oluwaponmile Funso-Adebayo may not yet be on the A-list of make-up artists in the country but she is fast making her mark. With a unique brand name known as Ojuloge, this graduate of Fine Arts is already looking beyond adding colour to the faces of brides and occasional users as money spinners. She intends changing the make-up face in Nigerian movie industry. In this interview with Temitope David-Adegboye, she tells more on her dream.
Why did you choose to be a make-up artist?
For me, art is inborn. I cannot recall at what age I started painting and drawing, but my mum said she started noticing some artistic traits in me since I was two years old. I grew up to realise that I was a born artist and painting on any surface was fun for me. My mum said I would paint the walls of the house with my crayons, draw comics on the pages of my notebooks and at age five I started struggling with my aunty anytime she was doing her make-up to let me apply powder and lipstick on her face. I have, however, chosen make-up above other forms of art just because I love to make people look beautiful. It gives me great joy and excitement when I see my clients looking gorgeous, happy and people passing comments like 'you look beautiful', 'I love your make-up' and 'you look stunning'.
As a professional, what error do you see many Nigerian women make with make-up?
The most noticeable is eyebrow grooming. In most ladies, the eyebrows are either 'thinned out' or their shapes are altered so much that it no longer suits their faces. The idea of drawing black or red pencils on completely- removed eyebrow is really disgusting also. Eyebrows are to be groomed in line with the normal shape they have. For example, flat shaped, soft angled, angled shaped, curved shaped and so on. Women are to enhance their natural beauty and not alter it in such a way that will deface them.
Should men make up?
Yes, why not? Looking good is not just limited to women, men too deserve to look their best.
How far should they go?
For an everyday look, a little oil control powder and lip moisturiser will do. For pictures, outings, movie/video shoots, they could use the right shade of cream-to-powder foundation, light lip balm and a smooth bronzer at the T-Zone. They should mind their lips; not overdo the shine. I recommend the use of cream-to-powder foundation for men because it will help them not to overdo the powder and it is easier to manage on the face. Anybody applying make-up on a man needs to be careful not to make him look like a clown. It is also recommended that men should shape their eyebrows each time they have a shave at the barber's place or at home. It makes them look neat when they have this mildly done.
Most ladies either have an oily or dry face. What products would you recommend for each skin type?
For the oily skin person, it is advisable to wash the face with facial wash or soaps that contain Bata Hydroxyl Acids. She should also prime with oil - matifying cream or oil free moisturising lotion. I recommended moisturisers with SPF15 and above, as they protect the skin of your face from the sun, which causes increase in the production of oil and worsens acne in the skin.
As for best foundation for this skin type, a non-comedogenic (non-pore blocking) foundation is recommended. Avoid creamy foundations. Set with a loose powder or your oil blotting compact powder. Remember to use powder lightly. Do not mass powder on your face.
To prime eyelid, use oil free hand cream. This is to make the eye colour last for whole day and help smooth-blend, using your eye shadow brush or applicator.
For dry skin, follow the basic steps too only that the products applied. Women with dry skin are advised to use creamy foundations for their make-up and set it with a compact or loose powder. However, they should avoid overusing powders and foundations, as this may 'cake' into their dry skin. They should use creamy concealers for spots and blemishes instead of trying to cover up with foundation. They should moisturise with creamy moisturisers and always protect their skin from sun and heat generally.
Do you love making yourself up?
I think you would have asked my husband this question because he is the only one who knows how much I love to do this. I never get tired of doing make-up on my face. I'm not afraid to try out new colours and techniques and I can be very daring when doing my make-up. I love my make-up to be dramatic, I love my make-up to 'speak' and make a statement. I always tell my students that a good artist should not be afraid of colours; use them, manipulate them, love them, communicate with them and you will get the best from them.
One of the most wonderful things about being a make-up artist is that you have someone who can change your looks and make you look more beautiful 24 hours of your day, seven days of the week and that person is me! I love to try new tricks and skills. Most times I use myself as a model in front of my dressing table to learn new applications, balancing, mixing of colours etc. This indeed is great fun for me. Doing make-up on myself strengthens me when I am tired, weak or depressed. It makes me really happy and I really thank God for giving me this gift...really.
How did you come about your brand name?
Ojuloge is a divine name given to me by God. When I was to start the registration of this business, I prayed and asked God to give me a name. One morning, I was driving to the office and was ruminating on the body and beauty God endowed African women with. A question came to my heart 'what is the first attraction in a woman's body?' I answered -her face! Because it is the first part of her everyone sees and admires before other things may follow. Then her eyes because they express her innermost feelings of anger, hatred, love, joy, lies and truth. Then I remembered the Yoruba adage says oju ni obinrin fi n mu ohun loja (a woman picks things and makes choices at the market place with her eyes/sight). This is not only talking about the outward eyes but also the inner eyes of a woman. Then I concluded the eye of a woman brings outward and inward beauty to her.
Ojuloge means the beauty of a woman is in her face and her eyes, more than this, the inner sight oju inu of a woman (when well nurtured and trained) will bring great success and beauty to her family and the nation as a whole. That is why at Ojuloge Arts World, we do not only serve our clients by enhancing their natural beauty, we make them part of the 'Ojuloge family' with opened arms always.
What's the future of Ojuloge Arts World?
We shall change the face of make-up in the Nigerian film industry. This is our dream! We shall also make our own theatrical make-up products, modified and customised for the Nigerian filmmakers and stage actors. We shall also take body painting to another level like never before. This is an interesting part of make-up artistry that is yet to be explored in Nigeria.
What are the challenges you face?
People owing me money, clients not keeping to scheduled time, clients asking for extra make-up and gele tying for their family members on the wedding day without wanting to pay for this, not having enough time for myself and having my weekends all booked for occasions. Others are having to wake up early on Fridays and Saturdays and too many untrained make-up artists flooding the market.
What are the basic make-up items every woman should have?
Powder (choose your shade, not one darker or lighter), lip gloss/ lip stick, eye liners (liquid or pencil), lip liners (brown and red), mascara and eye colours/ shadows.
What encouragement do you get from your husband?
My husband was one of the major forces that drove me to the House of Tara, when he noticed my uncontrollable addiction to make-up and cosmetics. In fact, he paid my fees for the training. He is the chairman of my business and he is fully involved in everything, from marketing the clients to offering of the services and even keeping in touch with them after services have been rendered. Sometimes, he takes time out of his own busy schedule to drive me to the studio or location when we feel we need some time to be together. He never hesitates to fund Ojuloge Arts World when we need financial support. He also supports us spiritually and morally too. That is why I always tell people that my husband runs Ojuloge Arts World, I only do the job. He has been too wonderful. I appreciate him and thank God for him.
What does style mean to you?
It means elegance and modesty together. Knowing what suits you and sticking to it moderately. This applies not only to make-up but to every aspect of fashion.
Are you stylish?
Of course, I am.
What fashion items do you like or can't do without?
My blue jeans!
What is your view about ladies going half naked?
Personally, I would start by saying that the word 'nude' is relative. If I were to wear a spaghetti strapped dress, my grandmother would shout 'Ponmile you are half nude!' but I know I'm not. Really, it depends on who the lady is, her background and her environment. A young Nigerian lady, who grew up somewhere in Chicago and came to Nigeria after 21 years for the first time in her life will not see anything bad in showing off some fresh skin and cleavage. However, some attires are way far to the extreme and it is usually obvious, as we sometimes see the ladies wearing such, trying to pull down their tops and adjusting their skirts or jeans. I'm of the opinion that a woman should not wear anything that will make her uncomfortable and shy in public. Do not wear something that will make it difficult for you to sit, bend and stretch your hands and to make matters worse go on a bike. You need not go through the rigours of adjusting and pulling your dress or trousers. If you feel comfortable and free wearing a piece of handkerchief, go ahead. But do not be angry if a petrol station attendant addresses you rudely while you are collecting your change at the station because 'you are addressed the way you are dressed.' No matter how holy and righteous you may be inside, even if you are a virgin at 40 years, when you dress outrageously seductive and showing off your God-given gifts to all mankind, you will give a wrong impression of yourself and you may be misinterpreted. Your intention may not be to seduce anyone, you may just want to look pretty, sexy and free, but our environment does not permit such.
What are your favourite colours?
It's hard for me to choose one because I love pink for parties, brown for official meetings and outings and wine-red for my studio.
What are the favourite cosmetic lines you like to work with?SLEEK, Tara Orekelewa, BM pro, Black-up, Bobbi Brown and IMAN.