PLEASE,ISOLATE ME FROM AN INSANE MAN LIKE ASHAOLU.ACTOR PRINCE JIDE KOSOKO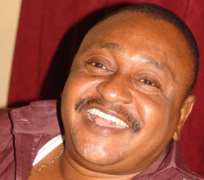 The presidential tussle in the Association of Nigerian Theatre Practitioners (ANTP) has taken a new dimension among the elders in the organization. The crisis has dramatically led to the war of words between Comrade Victor Ashaolu, Prince Jide Kosoko and Dele Odule.
The development came up penultimate week when the self acclaimed President of the Association, Victor Ashaolu sent a letter to the Nigerian law enforcement agents, alleging that the likes of Prince Jide Kosoko,Dele Odule,Ajala Jalingo among others are after his life and threatening to kill him.
Prince Jide Kosoko responded to the allegation in a phone chat; he said and I quote;
"Please I'm not ready for such stupid man like Ashaolu.He said I am after his life, for what? It seems the stupid Ashaolu is confused. He also said I am an assassin, his father and mother must also be killers. I am very sure he has got a brain touch.
"Please, isolate me from an insane man "Prince Jide Kosoko stated angrily.