Octogenarian Kidnap Victim Cry Out Over Further Threats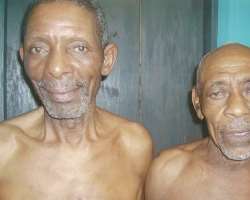 PA THEOPHILUS AGODI IGWIKE AND CHIEF RAPHAEL OGBONNA WERE KIDNAPPED, ASSUALTED AND TORTURED BY A VIGILANTE GROUP.
AWKA, June 12, (THEWILL) - 82-year old Pa Theophilus Agodi Igwike, an indigene of Nkerehi community in Orumba South LGA of Anambra State who was kidnapped months back alongside his blind septuagenarian in-law, Chief Raphael Ogbonna has cried out over further plans to terminate his life.
Pa Igwike who spoke to THEWILL at his new hideout said that he has been forced into exile by some elements in the village who masquerade as a vigilante group to haunt down perceived enemies of their financier.
Recall that Igwike who was forced into exile by the same group was traced to a neighbouring village, Owerre Ezukalla in April, where he had sought refuge with his blind in-law and kidnapped by the gang of militia with his host for ten consecutive days, before their eventual release.
Stating that the men were after him again, Igwike narrated his ordeal in the hands of his captors saying, "We were taken to an undisclosed location, where the gang of over five men tortured me and my blind in-law. They revealed to us that they were paid to kill us, and that I should call my son who is a lecturer abroad to send money across if both of us will stay alive.
"We begged them, telling that that we have not done any wrong to anyone to warrant being treated in that manner. They made me call my son, and immediately the line connected, they all descended on me, beating me up for my son to hear. My in-law in whose place we were staying after we were chased out of our community was not spared too. We sustained a lot of injuries during the days they kept us," he said.
Asked if he knew who was after them, Igwike averred that it is not hidden, pointing accusing fingers at a USA resident doctor from the community, Dr Godwin Maduka. He told THEWILL that the crisis stems from Maduka's quest to change the name of the community from Nkerehi to Umuchukwu, a move resisted by the elders of the village.
The crisis which was traced back to 2006 has caused a full blown war in the community, taking in its wake human lives and properties worth hundreds of millions of naira. Over 110 families who objected to the sudden change in name were also forced into exile.
Igwike who said that the militia group used by Dr Maduka has received another mandate to eliminate him and his family members called on the duo of the state and federal government to come to the aid of the community as one Chief Mathias Anyadiegwu who returned from exile to clean up his compound preparatory to his daughters marriage was also taken captive and latter handed to the police.
When contacted on what the state police command was doing to curtail the situation in the area, the Police Public Relations Officer (PPRO), ASP Emeka Chukwuemeka said that, "bearing in mind that the area is a border town, we know that some elements seize the opportunity to infiltrate the place and cause havoc before leaving through the many routes out of the state.
"We are ensuring that the situation there abates by reviving the police post in the area and sending more of our men to the place to ensure that more violence does not erupt in the community. Investigations into the root cause of the crisis have also been launched by us, as we have gotten to know that the crisis stemmed from a change of the community's name," the PPRO stated.