AFRICAN VILLAGE INT'L PRESENTS ELEDUA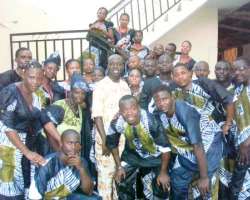 Happy Yinka Davies' sojourn into the world of theatre was way back in the early 80 in Akure-Ondo State when he was a toast of the town with his theatre group who used to shun out epic movies and other human interest stories. The artistic Yinka, moved to Lagos to give a dose of his talents to the Lagosians but the idea met a tumbling block and he found himself in the behind the scenes-directing and editing of movies.
But Yinka's burning desire for stage works never ceased to leave him any moment so he called his troupe together and a maiden edition of their drama titled Eledua was hatched. Last Friday, the hall of La'View Suites & Towers in Egbeda area of Lagos could not contain the pool of people who teemed to watch the stage drama of African Village International Drama troupe that is poised to take the Africa Theatre to the next level led by Happy Yinka Davies.
Learnt that the formidable drama group has an ace up their sleeve, it's about an iconin Yoruba land.