TOYIN AIMAKU MARCHES ON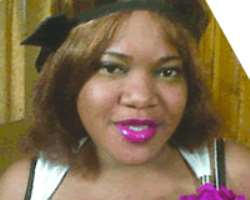 Vivacious actress, Toyin Aimaku, is about to join the exclusive club of movie producers that add extra to the ordinary to produce extra-ordinary movies.
The actress, who caught our attention with brilliant displays in movies and daring poses, and in your face off the screen attitude, is working her wheels and cooking up movies that would earn her respect and place her in the league of producers who not only make money but also statements.
Her latest work, Eefa, which was shot on Red camera, is one movie those privileged to see it are thumbing up as worth seeing.
It is been a while we saw a Grade-A work like Toyin's Eefa. She shows she is ever improving and ready to mingle with the best. Eefa is a story with compelling plots and well-prosecuted with Eniola Badmus playing lead role. Others include Mercy Aigbe, Muyiwa Ademola, Fathia Balogun, Femi Opabunmi (the footballer), Bayo Alinco, among others.
Aside Eefa, she has also finished work on Ikudoro, an action-packed movie directed by Teco Benson. The movies, Showbiz Now learnt, would be released before end of the year.