Ministerial Position: PDP rejects Akunyili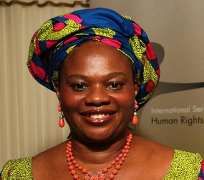 Dora Akunyili
The political woes of Dr. Dora Akunyili, former Minister, Information and Communication continues , as the Peoples Democratic Party, PDP, has vehemently rejected her nomination by the All Progressive Grand Alliance, APGA for a Ministerial position.
Sources within the PDP told Pointblanknews.com that Akunyili is considered as "a big betrayal" having dumped the party and afterwards made uncomplimentary remarks about the PDP.
Akunyili had said her husband, Dr. Chike Akunyili, forced her to quit the PDP. She said development at a meeting in Awka in 2010 where hoodlums had used teargas canisters infuriated her husband who demanded she quit the ruling party.
"There and then, my husband asked me to choose between my marriage to him and attending PDP meetings," she said.
The former Minister had said in contrast with the situation in the PDP in Anambra State, APGA was fostering peace and unity, fostered by the Anambra State Governor, Mr. Peter Obi.
But now, Akunyili is bent on returning to the PDP through her nomination by APGA for a ministerial position in the PDP controlled Government of President Jonathan.
Akunyili used her contacts to prevail on first lady, Dame Patient Goodluck Jonathan to lobby President Goodluck Jonathan for reconsideration into the expected new cabinet. The former Information and Communications Minister was sighted at the last Presidential retreat in Obudu where she was alleged to have "begged for a ministerial job."
Pointblanknews.com learnt that APGA has been pushing for her candidacy, insisting that she remains a nominee of the Party in an expected alliance with the PDP. Governor Peter Obi of Anambra State and leader of APGA was alleged to have personally made a case for her at the Presidency.
 
But party sources told Pointblanknews.com that gone are the days of Akunyili in any Government formed by the PDP as she is not considered relevant for any ministerial job.
"How can she return back again to our Government after all those remarks she made when she was leaving. The PDP she left made her what she is today. But instead of her showing gratitude, she left claiming that the PDP is peopled with thugs, she castigated the party and today she wants to come back under APGA."
According to the PDP source who would not want to be named "if APGA is really interested in this Government, they should bring someone else and not Akunyili because she is not and will never be loyal whether she is coming from APGA or returning to PDP. We would do everything possible to frustrate her nomination even if it goes to the Senate."
As at the time of going to press, Pointblanknews.com gathered the President Jonathan is still facing an intense lobby from both pro and anti Akunyili.