Madu Chikwendu steps up .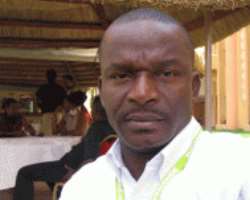 .At the Salon La Baule of Barriere Hotel, Cannes, South of France, history was made last weekend, as Nigeria's Madu C. Chikwendu was inducted into the International Federation of Film Producers (FIAPF). FIAPF, with headquarters in Bern, Switzerland, is the umbrella body for producers worldwide, and it promotes and protects their interest. Members of FIAPF include Motion Picture Association of America, Film Federation of India and other key players in the global film industry. An elated Chikwendu, who also made history in April 2006, in Tshwane, South Africa, when he became the first ever Regional Secretary (Western Region 1) of the Pan African Federation of Filmmakers (FEPACI), is credited with founding the Directors Guild of Nigeria (DGN). He spoke with Moviedom on the interesting development.
Congratulations
THANK you very much; I must thank the media for this and the practitioners for their resilience. The Nigerian press has written so much on Nollywood and it is still writing and the practitioners have achieved so much individually and collectively that we actually don't need to blow our trumpets, wherever we go before we are recognised. This is a great feat. But I must add, it didn't come cheap. We have been at it for some time now.
So, what is in this for the Nigerian film industry?
So much, I must say. Now, we will begin to play industry politics at different levels; and at a level higher than we were doing before. I am talking here about the kind of politics that will place us firmly in the comity of film producing nations and the type that will attract investment and co-production opportunities. Like I noted shortly after the induction ceremony, it has been a very long journey for Nigerian producers from the moment we started pursuing membership of this body, to now. We recognise the divisions in the Nigerian film industry and acknowledge that FIAPF membership is on the platform of Association of Nollywood Core Producers (ANCOP), yet our membership is not just for all Nigerian producers but also for all Nigerian cinema professionals and all Africans working in the audio-visual sector. We shall align ourselves to global best practice in film production.
Are you sure we have never been part of FIAPF?
No, we have never been part of FIAPF. But we have always been a part of the Federation of Pan African Federation of Filmmakers (FEPACI) of which I am regional secretary in charge of Western region 1. So, this is the first time we will be joining FIAPF, and I like it placed on record that Nigeria is the first country from sub-Saharan Africa to join FIAPF; the only other African country is Egypt. I am happy that at least we are in and we shall take it from there.
On Nigeria's participation at Cannes this year
Well, it is going on well; at least we managed to have a pavilion this year. The Nigerian Film Corporation (NFC) has done its best to man the pavilion, but I don't think it is just enough to put up a pavilion. We should be able to have activities that will draw people to the pavilion. I mean, we should be able to put some of the good works that have been produced in Nollywood into a show reel and possibly hold a special Nollywood Day at the Cannes that will be well promoted. That way we will draw more traffic to our pavilion than we are doing now. That is lacking at the moment and the usual refrain is the lack of funds and I wonder what other ways government wants to support the industry than providing a platform for promotion, networking and for exposing the talents that abound in Nollywood. I think it is good enough that we have a pavilion, but we need to now put it into good and greater use.