TECHNOLOGY SHRINKS THE GLOBE TO HAMLET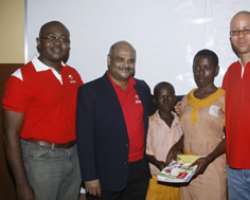 Some years back, people depended globally on news from sources like broadcast on radio or television. This is fast changing with the advent of smartphones and low end phones, which Nigerians can now receive personalized health tips, latest market prices, lessons and latest news.
Before now, many people rely on US-based Cable Network News (CNN) for news updates but with life streaming of videos and social media like FaceBook, Twitter and Funspace, the world had been able to access information conveniently and comfortably without stress. Several mobile manufacturers have also gone the extra mile to outdo each other by updating features that would enable users have more access to information and entertainment.
Without much ado, some critics believed that technology has shrunk the world into a hamlet, which is not up to a town or village. It was against this background that Nokia launched Life Tools, an emerging market information service in Nigeria. The African launch follows highly successful launches over the last two years in Indonesia, India and China. Today, more than 15 million people have experienced Life Tools services across India, China and Indonesia.
According to the company's General Manager for West Africa,  James Rutherfoord, farmers  will  be  able  to  check  market  prices without travelling long distances,  people  will  be  able to find important healthcare information without  having  to travel miles to see a doctor, and students will be able to  learn  English'.
All the services, according to Rutherfoord, 'are available on easy-to-use and affordable mobile phones'. Nokia Life Tools in Nigeria is being offered on the following devices: Nokia 2690, 2700, 5130, 7230, C1-01, C2-01, C3-00, X2-00, X2-01, and X3-00.
Nokia intends to introduce the service across all S30 and S40 devices. The service will be offered through all four GSM operators at the affordable price of N200 per month for any of the 9 services under Health Care, Education, and Entertainment, and at an equally affordable price of N250 per month for the Agriculture service. Services available under each category include; Nokia  Life  Tools  offers  a  wide  range of information services covering healthcare,  agriculture,  education  and  entertainment  which address the needs of rural consumers and improves their economic prosperity and quality of  life.  It is a key part of Nokia's overall strategy to connect the next billion people by providing access to locally relevant services and information on affordable devices.
The  Nokia  boss  in  West Africa noted that the company intends to bridge the information gap between  the  rich  and  the  poor  especially  in a developing market like Nigeria. Adding that with the present harsh economic climate in the country, every kobo will make a huge difference to people's budgets and this company has set out to build a service that is able to improve quality of life at very minimal cost'.