YOUR SUPPORT 'LL WORK LIKE MAGIC FOR EAGLES AGAINST ARGENTINA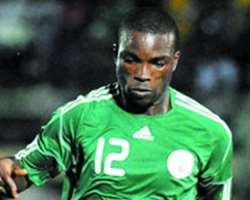 Warri Wolves all-action striker, Ekigho Ehiosun, has appealed to Nigerian football fans not to be discouraged when the goals are not coming as expected when Super Eagles file out against Argentina on June 1 in Abuja.
The rave of the moment urged the fans not to relent in their support, as the team would definitely respond to their support with goals.
Ehiosun described the friendly international against Argentina as a great development to Nigerian football adding that it would shape up the team towards its remaining Nations Cup qualifiers.
'I was so, so happy that I was included in the team. I thank Almighty God for propelling me thus far in my career. I sincerely thank the Chief Coach, Samson Siasia, for believing in me. I also thank Coach Simon Kalika and the rest of Eagles' technical crew for encouraging and guiding me also.
I also thank my teammates for the love and brotherly love among us. I promise to do all my best and continue to work extra hard to justify my inclusion in the team. The friendly would be a good preparation for the important Nations Cup qualifier against Ethiopia. I am sure we will do our best as a team to try and win and make Nigerians happy.
'I would also make this appeal as a part of the team to tell the fans to be patient with us when the goals are not coming or whenever we are trying to do our best in the game and we are initially finding it difficult to break the Argentines. Their patience and support would definitely propel us to win the match on our own soil,' he said.
Ehiosun has suddenly taken Nigerian football by storm this season with goals for both club and country. The recently qualified Petroleum Engineer, who will celebrate his 21st birthday next month, made a goal-scoring debut for the Super Eagles in a friendly against Sierra Leone in Lagos in February.
It was a classic goal poacher's goal as he pounced on a through ball delivered by fellow debutant, Joel Obi just moments after coming off the subs' bench.
'Ehis' has also fired four goals for the country's Olympic team and was on target for the Eagles 'B' team four times at the recent WAFU Nations Cup hosted by Nigeria.
On his recent comparism with legendary, Rashidi Yekini, he said: 'It is not right for anybody to compare me with a legend like Rashidi Yekini, who had represented this country in no small way. He has done great things for this country, while I am just beginning. I have been hearing his exploits since I was very young.
'So, I want to be known as Ekhigo Ehiosun, not Rashidi Yekini, because the vacuum he left behind is very difficult to fill.
Yekini is a player to look up to, but I just want to be my real self and nothing more. What I set before me is to work extra hard every day to ensure I become a prolific scorer that my coaches can always rely on.
I am working hard and trying to listen to my coaches and also learn from my seniors in the Super Eagles so that I could be a complete striker everybody would be proud of.
Let nobody compare me with one of my idols, Yekini. I hope to achieve what he has achieved or even more in the nearest future.
On if he is always under pressure when he plays for Nigeria, he said: 'I love playing football. It has become part of me and I just try to enjoy myself and do my best on the field, so I don't feel any pressure playing for my country or club. But I am always very happy any time I score goals.
Everybody expected the Eagles 'B' team to win the WAFU Cup. They were shocked to see Togo running away with the trophy
'Honestly, I don't know what happened or what went wrong in that match. We did our best as a team, but we were not lucky enough to emerge champions.
I was so confident that we would win because we were very ready to win. But that day everything just went wrong. I couldn't say what went wrong, so also my colleagues. I had thought that I would win my first trophy as an Eagles' player but man proposes, God disposes.
We lost to hard luck. Luck was not just on our side. When luck fails you, you will do everything and it won't work. Our coaches did everything humanly possible for us to win the cup.
Let us leave that behind us now and face the Argentina friendly and especially the Africa Nations Cup qualifier away in Ethiopia. If we win these two games, I am very sure Nigerians would forget the WAFU Cup loss.
On how he rated the last three months of his career.
'Even if I were to surrender my whole body, it wouldn't be enough to thank God for what he has done in my life and most especially my career. On and off the field, God has done wonders in my life and words are not enough to appreciate what He has done for me.
In my life generally, I need to thank Him from the bottom of my heart and to the depth of my soul.
'Sincerely speaking, I was tensed during my first appearance in the national team because playing for the senior national team is different from playing a league match. The difference is quite big. I knew I would play in the match as a substitute since it was a friendly, but I never thought I was going to score.
At the initial stage, when Coach Samson Siasia told me I was included in the squad for the friendly and with the calibre of players invited, I thought I would be on bench throughout the match. I also thought I was included in the team just to garner experience for the Obama Cup that we couldn't play eventually in the United States of America.
But when I saw the way things were going in the match, I mean the injuries to key players like Emmanuel Emenike and the rest; it was then it dawned on me that I was going to play.
A lot of things came to mind when I was about coming on because there is a big difference between playing for your club in a league match and the Super Eagles, where the best players in the country are.
So, the first time Emenike got injured, my colleagues on the bench told me to put on my boots that I was the next to play. But I told them 'Comot there! Na you be the coach?'
But before I could say 'wetin', Coach Siasia said 'Ehis, get ready to replace him'. But the striker stood up and continued the game. So, the next time he was injured again, I did not even wait for any instructions from the chief coach before I put on my boots and warmed up to replace Emenike.
When I was entering the pitch, I couldn't believe it. My friend, goalkeeper Akpan Bassey, then told me, 'Ehis, go, na you wan score second goal for us o! Go score am for me. (go in there and score for me because it is you who will score the second goal). That was why I raced to embrace Bassey when I actually scored the winning goal to thank him for believing in me.
Coach Simon (Kalika) should also take part of the credit for the goal that I scored that day. I have never seen a coach like that. We all know what Coach Siasia means to the players.
They are just too wonderful with the way they motivate and psyche up players. They are two of the best I have ever played under. Any time, any day I will acknowledge them as great coaches who have really turned my career around for good. I will preach this to anywhere in the world. They are just too great.
When I was about entering the field, Simon called me back and said 'Ehis, you played a match last weekend and you scored a hat- trick against Sharks' and I said 'yes'.
He now said, 'I want to tell you that those Sharks defenders are better than these (Sierra Leone) defenders. Just go out there and do what you know how to do best. Go and score a goal for me'. I now said, 'Coach, don't worry I will make you proud and happy. I will do exactly as you told me'.
Coach Siasia also looked at me and said, 'Ehis, just go there and calm down, take your time and play easy'.
Thank God I did not let them down. Because of the confidence they had in me, I was able to score the winning goal. I am sure that given more opportunity like that, I will surely explode the way the two great coaches expect me to.