NFF BEEFS UP SECURITY FOR NIGERIA, ARGENTINA DUEL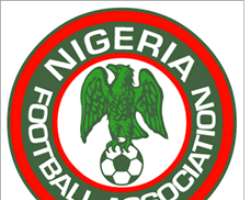 In an attempt to avert any security breach, the Nigeria Football Federation (NFF), has ordered all the security formations to double the previous number of their men to ensure peace when the Super Eagles take on the Argentine national team in a FIFA international friendly scheduled to take place in the National Stadium, Abuja June 1.
Security Committee Chairman of the NFF, Johnson Effiong, who made the disclosure in a telephone chat with Daily Sunsports in Abuja, said the plans to tighten security in and around the stadium was taken after a strategic meeting with representatives of the State Security Services (SSS), the Nigeria Police, Civil Defence, Fire Services and the match organisers at the Glass House last weekend.
He warned the numerous intending spectators not to be worried by the presence of the security agents, disclosing that they are going to flood the stadium with the security agents to ensure that there is no breach of security during the match.
'We have told all the security agents to double the number of men they give to us in our past matches. You know that the turn out will be massive because of the country that is involved. We have made all the security arrangements after series of meetings with all the security outfits and the match organisers.'All I can assure the spectators with genuine intension is that they should not entertain any fear. They should not be scared by the large number of security agents at the stadium because we want to guarantee the life of every person who comes to watch the match,' he noted.
Meanwhile, the board of the Nigerian football governing body would hold a crucial meeting on Tuesday to address several issues of concern, ranging from the ratification of the decision of the technical committee on the Chief Coach of Super Falcons, Uche Eucharia, to the threat of a parallel body to the federation. Daily Sunsports investigations revealed that worried by the consequences of the parallel body, the board had called for an emergency meeting to strategise on the next line of action to counter the body.
'The board will meet on Tuesday to deliberate on several issues affecting the federation. Some of the matters that would top the agenda include the ratification of the reports from various committees, and the implication of the parallel body, claiming to be the authentic federation. Some other issues will also be discussed,' our source said.