I'VE NOT KISSED FOR REAL IN MOVIES - QUEEN NWOKOYE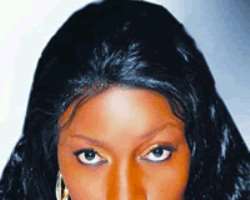 Nwokoye
You know that was it. Then in my third year I went for Miss Royal Crown, and in my final year I represented my campus in Miss Eastern Campus and I won. I went for Miss Nigeria and I won the preliminary, which was done in Ibadan, and I made it to the finals, but I did not win. That was basically my life, and in all honesty I am a shy person. And being in the limelight wasn't part of it for me. I did not bargain for the limelight thing, it was just entertainment for me. When I am not doing any entertainment I am a very shy person, it's just that it was what I wanted to do. Would you say you are a happy person?
Yes, I am a happy person. I don't allow anything to bother me, I live one day at a time, I live for today and leave tomorrow to sort itself out.
Where did you do your national service?
I served in Kano.
When you heard about the killing of youth corps members in Bauchi recently, what came to your mind?
It was sad news. But things happen for a reason, I felt bad when I read it. It was indeed a sad development. I served in Kano and it was in the wake of the Miss World pageant riot, and I was there. I know how it felt to be in that kind of situation and tension.
How did it feel at that time?
The riot was really in Kaduna, but the tension was there in Kano, so I did not really feel it much, but we still regulated our movements and we prayed a lot. I guess God answered our prayers, because in the end the riot just died down dramatically.
Any word for parents of the slain corps members?
They should take heart and take solace in God. Because it is not easy losing a child like that after all the years of labour on them. They should take heart and be strong.
How has the industry been for you?
Every step in life is tough, and I would say tough. But I am coping because it is tough, but by the grace of God it is going on well.
Did you ever ask yourself when would I be like Omotola or Genevieve, what comes to your mind when such thoughts come?
Such thoughts don't cross my mind; I have never had such thoughts because I am doing well as me, so why should I have such thoughts. If it's having thought of breaking new grounds, yes, like being different, yes. I have such thoughts.
Who do you look up to?
I don't think I look up to anybody, I look up to God, but I have people I admire. The truth is I admire a whole lot of people, but I look up to God mainly.
What are the challenges you face on your way to the top?
My basic challenge is about my role, because everybody wants me to play a certain role over and over again, and it's like I am stereotyped to a particular act and once you are stereotyped, you would be having problems getting roles when that type of role is no longer in vogue. I had a problem once because I wanted to do something different, but not too wild, but in another way something naughty, but not too naughty. Eventually, I conquered the feeling.
What are the bad roles you have played?
Not much, just one.
Which one?
In Mirror of Light, I played the role of a hustler and everybody was like wow! They could not believe it. And they liked it because it was different from what I was always doing.
Who are the actors you enjoy working with?
I enjoy working with everybody, because everybody is different. Most people don't act the same way.
Who are the people you enjoy a good working chemistry with?
I enjoyed everyone I worked with. I have not had cause to say I have not enjoyed working with someone. I don't have problem with anybody. Once we have a good script and everybody plays their roles well, we carry each other along.
Did you pay any unholy price to get a role?
No.
But you heard about some who did?
Well, yes, but it is all about individuals. And honestly, this thing is everywhere, but we tend to over-flog the issue when it comes to actresses. I have not had that can of experience and I believe it is the way you take yourself that people would take you.
Would you say you are blessed?
Yes, I am blessed and highly favoured, considering where I am coming from, I am blessed, because right now I choose the scripts I want and this is really a sign that I am really blessed.
Considering where you are coming from, could you show your backside nude to the cameras?
All my back?
Yes, to the butt.
Naturally, I wouldn't, but you know there are some storylines that might require doing so, but naturally I won't.
What if the story requires it of you?
I also have the option of not taking it if it requires me to do so.
But you are an actress, aren't you?
Yes, I also have the right to choose what I want. That is the right I have as an actress. If I know I don't have what it takes or can't give it my best, I wont do it.
But why won't you do it?
I won't just do it because it is me.
Is it about being a church girl?
No, it has nothing to with being a church girl. It has a lot to do about my dignity as a woman. There are things I won't do, but it does not make those things bad. It means I am not comfortable doing it.
What is your favourite movie of 2010?
It is an Igbo movie I did. It is entitled Odum na Kruneke. It's an epic and I really love the movie.
How many movies have you done?
I would say over 150 movies.
Do you still remember your first kiss?
I don't want to talk about that.
Why?
It's a personal thing.
But it happened a long time ago, isn't it?
Yes, but it is still a personal thing.
I read somewhere that you love sexy under-wears, is it true?
Yes, but every woman likes sexy under-wears. Yeah, I like sexy under-wears.
What is the big deal about sexy under-wears?
Nothing, but it makes me feel good and sexy. Guess there is nothing bad in feeling sexy.
What are the things you hide under your innocent look?
Well, I am almost a tough person when situations call for it and that's basically what I hide under my innocent look. My toughness. Some people don't know about me and I don't like people taking advantage of my easy-going person, but I won't let you ride over me. But I only act tough if situation calls for it.
Can you kiss in a movie?
Yes, I can.
But have you actually kissed for real in a movie?
No, I have not done that.
The rings on your fingers, do they mean anything or just fashionable rings?
They are just fashionable rings.
Who is the lucky guy?
That's private, too.
My last question, and it is making me laugh, are you still a virgin?
Well, do I look like a virgin?
How would I know?
Now, do I look like a virgin?
No, you don't.
You have not been active lately. Is it deliberate?
I think I am just living my life the way I want it.
What's your experience as an actress?
It's okay and you know it's the job.
If you could would you choose acting again?
Yes, I will. In my next life I will still be an actress.
Tell me a little bit about your childhood
Growing up was fun in a way. I grew up in a loving family and there was discipline .My mum was a vice principal and my dad worked at the airport. It was joyful . I've three sisters and I'm always in the church. Basically that was it for me and it was really fun growing up.
I'm always scared of churchy girls because when they want to do one bad thing, they really do one big bad thing.
So, what bad thing have you done?
We were always being monitored by our parents and as you know we are a religious family. My mum was a teacher, so there was no room for bad behaviour. It was just a normal childhood for a young girl, but you know young people will always be young people. There were times I sneaked-out for a breath of fresh air; walked round the streets and returned home.
So, when you were in the university and you had all the freedom you didn't have at home , what did you do?
Really, I did my 1st and 2nd year at home and in my 3rd year when I moved to the campus , I was already used to my way of life. I did not find it difficult to adapt to the freedom that comes with it. In addition, being the first child and with three sisters looking up to me I had to be really careful about what I do, because I had to give them a good example to follow.
So, there was no 'catch them you ng' for you in your first year?
No, there was nothing like that , because I was really shy and people just believed I was too young or innocent to be bad. I was quite skinny then too.
How old were you?
I was sixteen then and there was something about me that just made them want to protect me from everyone. However, something happened in my second year . Somehow, I was pushed into going for my departmental pageant and I won. Subsequently, people started giving me attention and you know that was it.
Then in my third year, I went for Miss Royal Crown, and in my final year I represented my campus in the Miss Eastern Campus  Pageant . I won and that year I contested Miss Nigeria pageant. I won the preliminary which was done at Ibadan and made it to the finals but I didn't win. That was basically my life and in all honesty I'm a shy person.