GLORY, GLORY MAN UTD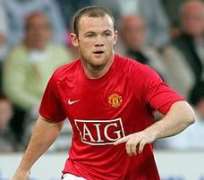 Manchester United celebrated like champion at Old Trafford after a 36-second opener from Javier Hernandez and a Nemanja Vidic's header took the team to the brink of a record 19th league title.
One point from the final two games against relegation-threatened Blackburn next Saturday and Blackpool on the final day of the season will be enough to seal a championship, which will take Man U past the mark Liverpool has been on for so long.
Sir Alex Ferguson felt victory over closest rival, Chelsea, was worthy of a couple of bows to the Stretford End, as he knows, as do all United's rivals, that the prospect of them not getting over the line now is unthinkable.
United is now certain to win a record 19th title thanks to its 2-1 victory over Chelsea. Built up, as the title decider for a week, so important Ferguson selected a shadow side for a Champions League semi-final, these matches are so often a disappointment. Not this one. Not when United was ahead so quickly.
Carlo Ancelotti must have been devastated to concede quite so simply so early in the game. He made his feelings known about that in the aftermath as he berated David Luiz from the touchline. Hernandez was not hanging about to consider it, darting forward before burying his 20th goal of the season into the bottom corner.
Old Trafford erupted and then watched spellbound as their team produced an awesome display of attacking power. Wayne Rooney was agonisingly close on two occasions, Hernandez should have tucked home Park's far-post cross despite Luiz's touch. Park himself brought an excellent save from Petr Cech.
From the latter effort, United gained the corner that brought its second as first for Salomon Kalou, then Branislav Ivanovic fell asleep. Kalou's crime was to allow Park to race past him and play a short corner with Giggs. The Ivorian was then beaten too easily as Giggs nipped to the byline before dropping a cross into the heart of Chelsea's box where Vidic strode past fellow Serb, Ivanovic, and powered home from close range.
Chelsea players did create opportunities themselves. Edwin van der Sar made an excellent save to repel Kalou and Didier Drogba went close on a couple of occasions. But those chances came against the backdrop of a game set up exactly as the Red Devils would wish, which made the otherwise outstanding Rooney's decision to react to the baiting he was receiving from the visiting fans all the more puzzling.
Having expressed his concern about United being on the wrong end of a refereeing decision, Ferguson could at least console himself his side had established a winning position before Howard Webb turned down their penalty appeals for what seemed a clear Frank Lampard handball to block Antonio Valencia's cross.
With no comeback in sight, Fernando Torres became the third Chelsea replacement after an hour.
Having spent big in January to land some silverware, owner Roman Abramovich must be wondering whether his £75million has been invested wisely given Luiz, an accident waiting to happen on this occasion, had understandably been taken off at the break, along with John Obi Mikel.
The changes brought the reaction Ancelotti was looking for though as Ivanovic climbed highest to reach a Ramires cross and headed down for Lampard, who prodded home from close range. United should have snuffed the visitors' lingering hopes out immediately though as Hernandez nicked possession away from Ramires and seemed to have presented Rooney with a tap-in, only for Alex to slide across to make a crucial goal-line clearance.
Rooney then spurned three chances to seal the contest, firing the first wide, inexplicably failing to even shoot with the second, before finally having an effort deflected over by Alex. Hernandez wasted an even better opportunity when he nodded Valencia's teasing cross over from six yards. It was all happening at the wrong end for Chelsea though, apart from a Torres effort that never threatened.
Indeed, the visitors were resigned to their fate long before the final whistle, with United knowing it could be celebrating history at Ewood Park next Saturday just as Manchester City is taking the field for its first FA Cup final in 30 years.