AGBANI, OLUCHI AND THE GENTLE TOUCH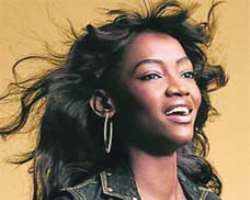 Oluchi
Agbani Darego and Oluchi, Ambassadors for Nature's Gentle Touch, took time out of their busy schedule to welcome new students into Nature's Gentle Touch Hair Institute a few days back. The international supermodels informed the students at an induction ceremony in the institute's premises of the huge financial opportunities that await them as professional hair stylists. They were also told to make the best of the opportunities that await them in the course of their training and thereafter.
Knowing it is not every day that one meets famous supermodels, the students were delighted at the opportunity and used the moment to ask questions, seek ideas and tips on how to become successful. Agbani and Oluchi did not disappoint them as they answered and gave the students tips and ways of navigating the murky waters to become international stylists.
Nature's Gentle Touch is a multi-award winning hair and scalp solutions provider; and in keeping with their previous achievements, Nature's Gentle Touch Hair Institute recently admitted a fresh batch of students who upon graduation would receive diplomas in Hair Designing and Artistry. The aspiring stylists came from different walks of life and will over a period of eight months be taught by accomplished hair stylists and instructors from different parts of the world.
Nature's Gentle Touch Hair Institute has trained over 50 hair stylists since its inception in 2009.