ERE ORIGI WILL EMPOWER WOMEN'-SOLA ASEDEKO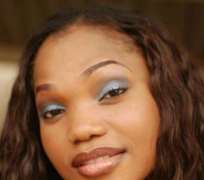 Unlike many of her ilk, Sola Asedeko,who shot into limelightin Tunde Kelani's movie Abeni, is coming with a new movie,Ere Origi that she's confident she will empower women.
A little under the age of 30, Sola Asedeko is an actress who juggles a Masters degree programme at the University of Lagos with a 9 to 5 job in a media outfit. How does she cope with three demanding professions on a daily basis? "It's all about taking a good decision and planning. When you plan well, you will discover there is enough you can achieve under 24 hours. Yes I'm a woman and I know I must build a home and I believe so much in the strength of a woman."
After a preview of her new movie- Ere Origi and you will discover this, young woman who was discovered in one of Tunde Kelani's flick 'Abeni', truly has faith and is committed to propagating the gospel of women liberation. "The story is about three ladies- Tolani, Hadiza and Amaka who find their lives entwined in a web of high class prostitution, deceit and lust……
"All three of them with different experiences from their pasts are determined to live comfortably in the city of Lagos. Everything seems perfect until a blast from Tolani's past shows up and tries to lead them in the right direction…..
All they have built their lives around suddenly begins to look vague and impossible."
Tragedy strikes when Hadiza and Amaka decide to take fate by the balls. One looses her life and the other would be confined to a mental home for the rest of her life.
"The thrust of this movie is to encourage young women to be contented with what they have, plan with it and they will achieve a lot in their lives. The quest for fast money is a product of greed, because in this story you will see that these young ladies actually have regular jobs and they are earning good salaries yet they still got involved in prostitution, I believe we have a story that will help put things right among womenfolks."
The movie which is a production of Lagos Indicator Media and supported by Unilever's Sunlight 2-In 1 detergent, has afforded this beautiful and down to earth actress the opportunity to do what she loves doing best. Rather than talk about her job, Sola chose to give a few words of advice to young girls who want to get into the movie industry "I was very lucky to begin with a great man like Tunde Kelani, but I feel sadden whenever I look around and see young girls who are fooled into believing sleeping around is the only way for them to make a head way in their careers. That is why I cannot wait to let every young woman know her success is in her hands and not with any man."
A graduate of Creative Art and presently undergoing a Master's degree program in Advertising, one wonders why she chose to practise her art in movies. "It is a choice I made because there is a deeper joy that money cannot buy when you discover you are helping to preserve your culture through what you do, that basically is the reason. Let nobody fool him self or herself that we do our movies in Yoruba because we cannot speak English, no, we do it in our mother's tongue because we are proud of our heritage."
Asked if with her beauty, talent and intelligence, will she be walking down the aisle very soon?. "That will come in God's time. Let's just leave that out of our talk now. The great job right now is my new movie, Ere Origi. So, watch out for that first and then we can think of watching out for the wedding bells." Ere Origi directed by Niji Akanni features Yinka Quadri, Regina Chukwu,Femi Brainard, Toyin Adewale among other stars.