Presidential Election: Ogun Witnesses Low Turnout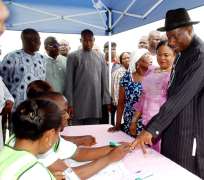 ABEOKUTA, April 16, (THEWILL) - Today's presidential election in the three senatorial districts in Ogun State witnessed low turnout as electorates failed to come out to exercise their civic rights when compared with the National Assembly election held last week.
In the Ogun West Senatorial district turnout was extremely low. In some polling units in Yewa/Owode area of the state, the electorates decided to stay in door watching activities going around while some youths in the area turned the major roads into football pitch.
As at 8 am, none of the officials of the Independent National Electoral Commission (INEC) were present at the center while some electorates had stormed the venue for accreditation exercise. It was also low turnout in Owode, Sango-Otta, as well as Ogun East and Ogun Central.
Meanwhile, former President Olusegun Obasanjo has described the Presidential election in the Ogun State as a victory for the country as well as its people as he said; "I believe to all of us in Nigeria and Nigerians, today is a day of victory to all of us."
Obasanjo who arrived the polling centre at about 12. 35p.m. in company of his wife exercised his civic responsibility within five minutes after which he answered questions from journalists. Shortly after casting his vote at Ward 11, unit 14 of Ogun State, Obasanjo described the election as very crucial and important in the history of the country.
"I believe to all of us in Nigeria and Nigerians, today is a day of victory to all of us. Because once we have an election to elect a new President, and we go about it in a peaceful way and at the end of it, a candidate emerges elected, it is victory for all Nigerians and of course, the party that its candidate wins, it is double victory for such a party," the former president told reporters.
Obasanjo while speaking on his impression of the election said: "So far so good, I will say, from what I have heard so far, from the pockets of what I have watched on television, heard on radios I have also talked to some people within this particular state and outside the state I think there is generally, peaceful and orderly polls going on."
On the low turn-out in some areas, Obasanjo said: "Normally, that normally should not be of great concern. So I think what I have seen today is not a thing out of ordinary. I do hope that every election in a way moves us towards consolidating our democracy. As a result of this election at the end of the day, it will move us forward towards consolidating our democracy", he added.
"Recall that my own election in 1999 moved us in one direction. It put paid to what I will call ethnic politics in Nigeria, and I hope that this one too will put paid to whatever the monster that is trying to rear its ugly head in another area."
However, governorship candidate of the Action Congress of Nigeria, Senator Ibikunle Amosun described the turn out as impressive one.
According to him, "surprisingly after some few hours, we discovered that even those that are voting today are slightly even more but I can assure you that come next Tuesday, we'll see a more impressive turnout. But we have to congratulate INEC really and the law enforcement. So far so good, there is a slight improvement from that of last week."