Help! Short men won't let me be – Essence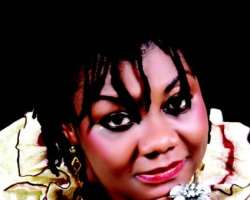 Okoro Uwale a.k.a Essence started her singing career at a very tender age, but went professional at age 18. The Itsekiri, Delta State-born singer, graduated from Delta State University (DELSU), Abraka, where she studied Theatre Arts. After secondary school education, Essence joined her Church choir. Before she released her debut album, she had backed up artistes such as Kingsley Ike, Paul Play Dairo, Kenny St Brown and others. Upon graduation in 2004, she launched into the market with 'Truly Essence', which has hit songs such as 'Like Dat' and 'African Prince', a remix of Tuface's 'African Queen'. She recently released her sophomore album titled, 'Essential'. The dark Kalangol singer shares her story with Weekend Groove.
Facebook love, what is it all about?
Jaywon came up with the concept, but anyone who knows about facebook will know it's where we share our feelings and information with friends, play around with pictures. There was a time I actually included my age and date of birth on twitter and someone sent me an e-mail, telling me that I didn't need to add all that.
And I've also heard of girls hooking up with guys on facebook. While it didn't work out for some, for others, it was a dream come true.
Since you logged on to facebook, has anyone hooked up to you?
Of course, they're on line but I'm still interviewing them one after another(laughs).
How has the journey been so far?
We thank God because fame and success came when it was supposed to surface. When you grow up, facing tough situations, things can only get better with time. So, I believe I'm getting better everyday than what people were complaining of…
Why did you decide to go into music?
I've been singing since I was five. I didn't go into music just to make money or achieve fame. For me, it's the passion that guides me. Music chose me. I'm the last of seven children. My older siblings are much older than myself. So, most of the times, I was left to take my own decisions. The TV kept me company and I grew up listening to different genre of music. I listened to the country music, jazz and I loved Michael Jackson a lot.
In fact, as at then, I fantasied getting married to Michael. Somehow, I trained myself unconsciously- singing other people's songs. When I was in secondary school and I didn't know what I wanted to do, my uncle reminded me on how I used to disturb the whole house with my songs and suggested that I give music a shot. At that point, I didn't really believe in myself.
And when I got into the University, I chose a course that would be all encompassing, so I went in for Theater Art
Where did you start music from?
I started from the Church, Bethel Ministry of Late Rev. Oduyemi. Kingsley Ike of the Wamilele fame was my choir master then. He was with Kennis Music and tried to get the Kennis to hear me sing because he said I had a promising career in music. But I told him that I was scared because I was very young.
When I was in the University, I went for a talent hunt and surprisingly, I came second. Kenny Sait Brown was one of the judges. She told me that I came first on her list and asked me to call her. She gave me her number but it took me almost a week to call her.
And eventually when I called her, she gave an address to come see her. When I got there, she made me feel at home and I became her backup singer. And she has been grooming me since then.
Did you have this believe that the music was going to be a success?
Truly, it was the last song that was recorded on the album. I was tired and didn't feel like recording it, my producers insisted I did. In fact, I'd recorded lots of songs that didn't make the album but they insisted I included the song.
So when the song hit the airwave, I started getting calls from people who informed me that they love the song and wanted to know who sang it. Suddenly, it blew out of proportion and I was told that I was going to shoot the video.
We shot the video and God's hand was really on it because people love the video .And I feel blessed.
What would you have done if you didn't put that particular song?
I always thank God everyday because since we started recording, I'd prayed that God would put his hand on it. And I'm grateful to God. I'm the kind of person that don't like to take credit for what I didn't do. I didn't come up with the concept of the song. And if you asked me a million times, I'd still tell you that it was Jaywon who conceived the idea of the song. He's a bundle of talents and I thank God for his life. God used him to bless me and I'm grateful.
Did you feel left out before then?
I think an artiste feel more fulfilled when people sing his/her song. But you know that when you are on stage and you don't get a feedback from the audience, you'd get discouraged. So when you sing on stage and people acknowledge you, it gets you intoxicated, more than cocaine. Apart from Facebook, Talangolo too did well and I thank God for everything.
In terms of financial reward, are you okay?
By the grace of God yes. At least, I can pay my bills and I'm not indebted to anybody. And some people are already saying that I'm getting fatter.
Don't you think that your body size scare away men ?
I don't want to scare men away o!. But if they are scared, they should stay away. Funny enough, it's the small guys that approach me and I usually wonder what gave them the guts to come around me. I like the guts of short guys and I think it's because they're used to fighting for everything, and perhaps, they don't take no for an answer.
Describe your ideal man?
First of all, he must be God-fearing and he has to call me everyday because it's a serious crime if he doesn't call.
Does he have to be tall?
Oh yes. At least, a bit taller than me but it'll be nice if he's very tall.
So what happens to the smaller one who have been coming around you?
I don't know o, that's why I didn't answer them
Have you always been this big?
Yes, I have big bones. I took it after my father.
Did kids tease you while you were younger?
Yes, I got a lot of it especially from the mean kids. But if you know who you are, it won't affect you
What kind of names did those kids tease you with?
They dared not (laughs). I wasn't a terrorist but they feared me. I think when I was much younger, I was muscular and looked more like a boy. I had to fight for everything and I still fight for everything but now I'm more of a grown up lady.
When did you have your first boyfriend?
I was about 20 years old.
What did he say to you that made you fall in love with him?
He was bold because others had this feeling that my face scared them. So, he was my first boyfriend.
What's his name?
Lanrele.
He broke your heart?
Yes.
You fell in love with some other guy?
What did I know about love, I was younger. It was my first time and I was excited but it wasn't so fantastic.
How can you describe yourself?
I'm a simple girl but my friends complain that I don't behave like a diva. But I'm an Itsekiri woman from Delta and we are real. Whenever I'm on stage, I behave as such but whenever I'm off the stage, I love to be who I am. Lagbaja got it right and he's enjoying himself.