WE'LL REMOVE IMMUNITY CLAUSE, BUHARI INSISTS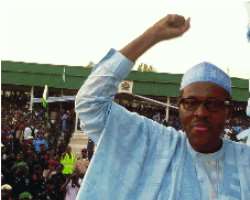 Former Head of State and presidential candidate of the Congress for Progressive Change (CPC), General Muhammadu Buhari (retd) has insisted that his government would remove the immunity clause that protects public office holders. He said propriety and accountability could not be compromised. Buhari made the assertion yesterday in Lagos while presenting his party's manifesto. He said all vested interests would be challenged and that it would be no longer be business as usual.
'We shall challenge vested interests and erase unearned privileges. Propriety and legality will be our new watchwords and hopefully, in our time, this will become the new business as usual for the nation.' In addition, Buhari emphasised the need to 'make the nation accountable and corruption-free and bring morality back to governance,'He vowed to 'make the country uncomfortable for those who do not wish to play by the rules.'
Buhari, who was accompanied to Lagos by his running mate, Pastor Tunde Bakare and other party bigwigs informed that his party's focus would be on five areas of concentration which he said, would guarantee the country to move forward.
The five-point agenda, according to Buhari were security, raising the standard of education, aggressive youth employment, rehabilitation of dilapidated infrastructure and total disarming of the Niger Delta and regular power supply. He said his team was on a rescue mission 'to recreate Nigeria and transform it into a powerful and prosperous nation,' adding that 'our focus will be on improving the efficiency of national economic management, and reintroduction of a national economic development planning and the plan to successfully manage change.'
Speaking further, the CPC presidential candidate invited everybody onboard 'to come forward and join the struggle so that togetherness, we take the destiny of this nation in our hands and change it to a united, prosperous, caring, truly democratic Federal Republic.'
This, according to him was imperative going by the failure of the ruling peoples Democratic Party (PDP), which he said, had bastardised the nation in its 12 years of misrule, saying, such a party had no moral right to ask for peoples' mandate again.
According to him, it was as if they only came to pauperise the nation saying, 'it could be said that during their time, the only places that prospered were the cemeteries and the bank accounts of the thieving elite.'
He lamented that 'people in their thousands died due to poverty, hunger, disease and violent crises and violent crimes, as custodians of nation's resources smiled their ways to the bank.' Buhari and Bakare therafter led a road show from the Lagos Island to the Sky Power playgroung at the GRA, Ikeja where a mega rally was organised and addressed.