IVORY COAST: I SURRENDER - GBAGBO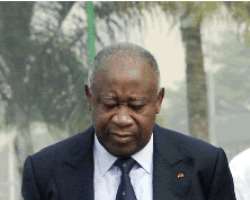 • Gbagbo
Embattled 65-year-old Laurent Gbagbo has surrendered and asked for United Nations protection, an internal United Nations document seen by Reuters said yesterday.
'…President Gbagbo has also surrendered and has asked UNOCI's protection,' the document to U.N staff said.
Gbagbo had hunkered down in a bunker at his home yesterday after being cornered by his arch rival's followers, as his own forces silenced their weapons and asked for a ceasefire.
He expressed surprise at a 'direct attack' by French forces, when he was still open to dialogue, his spokesman said. Gbagbo's spokesman said the assault by UN and French forces on two military camps killed many, as soldiers lived with their families on the bases
Having resisted calls to cede power to internationally recognised president Alassane Ouattara for four months, Gbagbo was now trying to strike a deal to quit, according to the former colonial power France.
'We are today I hope on the brink of convincing Mr Gbagbo to leave power and let Alassane Ouattara exercise' power, French Foreign Minister Alain Juppe said earlier. 'Two generals close to the former president Laurent Gbagbo are currently negotiating the conditions for surrender,' Prime Minister Francois Fillon told parliament.
As events repidly unfolded in the economic capital Abidjan, United Nations mission UNOCI said Gbagbo's closest advisers, both military and civilian, had deserted him.
'With a handful of persons, he is known to have retreated to the basement bunker of the presidential residence,' read a UNOCI statement. Fierce fighting has rocked Abidjan for two days since Ouattara's fighters launched a 'final assault' to remove Gbagbo while French and UN helicopters attacked his barracks and the palace to take out heavy weapons on Monday.
UNOCI received three separate telephone calls early yesterday from leaders of pro-Gbagbo forces, saying orders were being given to stop fighting. The UN mission said its troops had been ordered to offer protection to members of Gbagbo's army who have laid down their arms.
French Defence Minister Gerard Longuet said the crisis sparked by last November's disputed presidential election could be over in hours. Earlier Ouattara-appointed ambassador to France, Ally Coulibaly told French radio RFI: 'I believe Laurent Gbagbo is alive. I have learned that he is negotiating his surrender.'
A spokesman for Gbagbo said he was still open to dialogue. Gbagbo's foreign minister Alcide Djedje took shelter in the French embassy and said that Gbagbo and his family were 'under attack' at the presidential residence.
Hours earlier, French and UN helicopters fired at the presidential palace, presidential residence and two military barracks held by Gbagbo, targeting heavy weapons being used against civilians.
UN Secretary General Ban Ki-moon stressed the action was to protect residents and not a declaration of war against Gbagbo. The United Nations said dozens of people were reportedly killed over the past few days in Abidjan and that the humanitarian situation in the city was 'dramatic'.
'In Abidjan, we are obviously extremely concerned about the situation of civilians at such a large city, population of millions, with heavy weapons being used inside densely populated urban areas reportedly leading to dozens of deaths in recent days,' said Rupert Colville, spokesman for the UN High Commissioner for Human Rights.
UN Security Council resolution 1975 adopted on March 30 ordered sanctions against Gbagbo to push him to leave and also said the UN force should protect civilians and prevent use of heavy weapons. Following a repeated chorus from around the world in recent days, US President Barack Obama again urged Gbagbo 'to end his claim to the presidency.'
Gbagbo was elected in 2000 and postponed polls due in 2005 before allowing them to go ahead last year, only to reject the ruling of the election authority that he had lost to long-time rival Ouattara. Reports meanwhile emerged of human rights abuses over the past week, as pro-Ouattara forces swept southwards to Abidjan, including the massacre of hundreds of civilians in the western town of Duekoue.
Months of fighting have also seen up to a million people flee their homes in Abidjan and elsewhere, many of the them into neighbouring countries, UN agencies have said, warning of a humanitarian disaster. About 1,900 foreigners were meanwhile under French military protection in Abidjan after 447 others had already been flown out.
…Exile, only option for him – AU
African Union Commission head Jean Ping expressed doubts yesterday that Ivory Coast leader Laurent Gbagbo can negotiate an exit from an international siege, despite a loyal general's call for a ceasefire.
'Inshallah (God-willing),' Ping said during a visit to the European Commission in Brussels when asked about Gbagbo's chances of obtaining safe passage from the presidential residence in Abidjan, where the former strongman is holed up under attack from rival forces backed by France under a United Nations mandate.
Ping said an offer of exile had been 'all but sealed' going into mediation with Mauritania President Mohamed Ould Abdel Aziz on Saturday with the blessing of internationally-recognised Ivory Coast President Alassane Ouattara, whose forces are leading the offensive on Gbagbo.
However, Gbagbo and his family were still in the Abidjan residence as at press time, 'under attack' from Ouattara's troops, according to Gbagbo's foreign minister Alcide Djedje who had taken shelter in the French embassy after defecting.