NIGERIA'S LARGEST SEX MARKET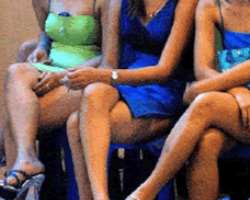 As the live band, known as the Zion Band, dished out different tunes at Time Out Fun Paradise in Benin City, capital of Edo State, two female dancers were serenading the guests with their suggestive dance steps. Indeed, their general stage mannerisms were erotic.
The dancers paraded contrasting features: One was very tall and slim. The other was not so tall but blessed with more flesh, especially in the right places. The atmosphere was lively. There was hardly an empty seat or standing space, as men and women squeezed their way in. The number kept increasing and fun seekers spilled outside. Those who couldn't bear the choking ambience simply frolicked outside. In fact, there were more people outside than inside. Most of them were women and on business. They were commercial sex workers strutting their stuff and soliciting for patronage from men.
Time Out Fun Paradise could be described as world's biggest sex market. It is a prostitutes' paradise, a haven of sinful lust. There, women of various ages, shapes and sizes compete for attention. Indeed, the number of scarlet women on parade is simply amazing. It is usually a crowd, like political rally. And because of the stiff competition in the 'market,' the women adopt aggressive marketing strategies. They are desperate, throwing decorum to the wind.
The provocative dressing and weird make-up the women wear show the stuff they are made of. Most of them wear bum shorts and revealing tops. Some wear micro-mini skirts that barely cover their pants. Their breasts spill from the half-cup bra, which they throw into the faces of men. And, in their desperation, they woo men openly.
The more daring among them pull out their breasts for their prospective client to see and feel while bargaining, saying in Pidgin English: 'Touch correct breasts, breasts wey stand well, breasts wey never fall.' The aim is to convince the customer to play ball.
Saturday Sun had a time out at the fun paradise penultimate weekend and witnessed scenes of debauchery. From about 8pm, the commercial sex workers begin to amass. Thursday nights are special nights: ladies nights. Heavy smoking and drinking goes on there, even as hawkers of recharge cards, water, cigarettes, condoms and sundry items also ply their trade. Business comes into full swing from 10pm.
Sex is not exactly cheap at the centre. Most of the practitioners peg their asking price at between N6, 000 and N10, 000 for an all night dalliances, while a quickie (short time or kpa kpa kpa) goes for about N2, 000.
However, it depends on the customer's purse and bargaining power as well as the girls' marketing ability. Time is also a factor in the sex trade. As the night winds down, price crash.
One of the scarlet ladies, who gave her name as Destiny, told the reporter that it was not her destiny to engage in the business. After some haggling and a bottle of Smirnoff Ice, she said: 'If you give me N4, 000, I will go with you. I just need some money to take care of some things.'
Asked why she was bartering her womanhood for cash, she quipped: 'Na condition bend crayfish.'
Although many of the commercial sex workers claimed to be students, investigations revealed that some actually engage in legitimate business in the afternoon but practice prostitution at night to augument their earning. Some of them work as waitresses in eateries and hotels in the afternoon but at night they transform to sex providers.
Saturday Sun checks revealed that most of the hookers are from the South-South states. They find Benin attractive because of vibrant nightlife occasioned by the dwindling rate of crime in the city in recent time. Again, some of them are girls deported from Italy and elsewhere, where they had gone to seek greener pastures.
Although Time Out is regarded as the hottest pub in Benin, it is certainly not the only place sex is sold and bought in the city. LJJ on Sapele Road is another sex rendezvous. A garden like affair with thatched roof, it is a perfect place for fun seekers. The icing on the cake is that waiters there also serve as pimps. Photographs of call girls are available for patrons to make their pick. So, if you make your choice, the girl's mobile phone numbers will be given to you to reach her and discuss business.
On entering there, waitresses always announce, gleefully, that they have everything, including girls. When the reporter feigned interest, one of the waitresses pulled out her phone and wrote a telephone number. According to her, the number belongs to 'one hot girl, who knows how to give value for money. Her name is Faith.' However, when Faith's number was called, she said that she was 'running things somewhere.'
Free girls are also on the prowl in the premises of Jonvee Kitchen. Some of them sit at tables and make passes at men. The more daring ones accost men leaving the place and offer their company. One of the side attractions at Jonvee is the performance of semi-clad female dancers, who entertain guests.
When Saturday Sun was there, a rotund dancer dished out suggestive stuff, as Makossa music blasted from the speakers.
A few meters away from Jonvee is De Konsolate nite club. There, sex workers keep vigil, in anticipation of patronage. They are alert, watching out for the slightest signal from potential clients.
A middle-aged woman simply known as Omowunmi runs a prostitution ring in Benin. To pick an 'Omowunmi girl,' the client will pay for the girl's taxi fare, food, drinks and N10, 000 per night.
Omowunmi, who cruises about town in a cute Kia sedan car, also supplies girls at rich men's parties. Toast of social events, when a client 'places an order', she will send text message to her girls, briefing them accordingly Her girls are said to be some of the hottest in Benin City.