KALU RISES HIGH IN ABIA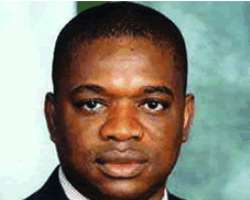 •Dr. Kalu
The electioneering campaigns in Abia seem to have reached the crescendo stage, as various peoples and communities have pitched tents with candidates and parties that have approached them for support.
The reason is that all the candidates and parties have rolled out their packages and programmes , most of which are more theoretical than practical.
However, the ruling Peoples Democratic Party(PDP), with all the tackles it has been getting, seems to have agreed with Abians that it has not done well in the past, pleading to be voted in a second time for itto right all their its wrongs.
Whether Abians will agree to the plea is an issue which will be revealed to all in few weeks time. The governor had confirmed during campaigns that the grievances being expressed by various quarters were genuine and pleaded that they should sheath their swords and allow him to serve them truly this time around.
However, one contest which Abians, and none Abians are looking forward to is the contest for the Abia North Senatorial seat in which the former Governor of Abia State, Dr Orji Uzor Kalu has entered into. Incidentally his entry into this race under Progressive Peoples Alliance (PPA), has brought him face to face with PDP candidate, Comrade Uche Chukwumerije, who want to go to the Senate for the third time.
This development has made the Abia North Senatorial seat a very hot one as political observers has described the battle as that of the titans. The tempo and format of politics in Abia North has been changed by this development as observers know Kalu as one man who has never and will never loose anything he has his eyes on. Another advantage Kalu has against Chukwumerije is that the later who came from Umunneochi has been occupying this same post since 1999, as the senatorial representation had fallen within his place and Isuikwuato LGAs.
General Ike Nwachukwu (rtd) from Isuikwuato occupied the senatorial seat and from him , it came to Chukwumerije who has held sway for two terms and is now seeking for third term. There are hidden protests that within this period under discourse, dividends of democracy revolves around the two LGAs, to the detriment and dissatisfaction of others.
However, the most interesting thing here is that the two political giants want to test their political relevance among the Abia North people and this has made the game very interesting as well as turbulent.
One thing is clear here, some credible sons of the home town of the serving senator does not see him as the only messiah which they have and have, for that reason, defected to other parties to give him a fight immediately PDP gave him their ticket .
Some of them believe that besides the fact that he has outlived his relevance politically, they have not seen anything on the ground which he could show them as evidence on why he should be allowed to go back to the Senate. So he does not have up to 50 percent of the support of his people let alone those outside his zone.
Political observers are of the opinion that the Isuochi-born Senator has become big headed as they reason that he now sees the senatorial seat as his birthright, and goes out to insult people any how. Governor Orji's explanation on why his party chose Chukwumerije has not helped him to be accepted by the masses of Abia North.
While former Governor Kalu has things which he can point at as what he has done for the people of Abia North, it seems that his opponent is relying on the dwindling credibility of the party in power. While Chukwumerije is hiding under the umbrella of PDP to win, Kalu is known to have been bulldozing his way into every nooks and crannies of Abia North and beyond. He has introduced a campaign strategy of going from house to house, even to places where rumours were raced by his opponents that he was not wanted.
He would quickly dress up with his aides and storm the area to the amazement of his opponent. For now, the fear of Kalu is the beginning of wisdom in Abia North and beyond.
A case in sight was when he visited Item and his opponents raised rumour that someone was coming to cause trouble in the area and they did not know that it was Kalu they were referring to. On the day he went, they blocked the roads and were battle ready. When Kalu emerged from the vehicle, and walked towards the youths, instead of attacking him as they were instructed, they started hailing him.
In a place like Ohafia , Abiriba ,Item , Isuikwuato and even Umunneochi, the home state of Chukwumerije, and the entire Abia North, Orji Uzor Kalu is the only name on the lips of the people. However , in less than 48 hours, the result of performance will emerge between Chukwumerije and Orji Uzor Kalu. Abians are waiting earnestly.