'DANCING QUEEN' PETKOVIC STUNS WOZNIACKI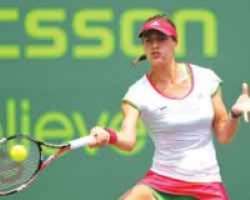 THE packed house couldn't wait for Germany's Andrea Petkovic to begin her now-famous dance routine in celebration of her wins on the WTA tour.
This time, the ever-smiling German had just claimed the biggest scalp of her career by upsetting world number one and top-seeded Caroline Wozniacki of Denmark 7-5, 3-6, 6-3 to reach the quarter-final of the on-going ATP Miami Masters 1000 event.
Probably, having learnt from her parents about the superb but ancient rhythm of the American singer Chubby Checker-originated twist dance which caught the imagination of the entire world as almost everyone (young and old) in the early 1960's, and well into the 1970's, 'twisted' their nights away, Petkovic has made a name for herself, with her racquet, and the twist dance routine (consisting of the dancer wriggling his or her waist) which immediately followed her wins on the tennis court.
Petkovic's twist dance was of course more rigorous yesterday because it is not everytime you face the world's best player and come out of the encounter unscathed. When the German narrowly won the opening set 7-5, many in the capacity crowd, who had followed the 20 year-old Dane's career, expected a typical fightback from the world number one, and they were right, as Wozniacki won the second set 6-3, to force the match into a third and deciding set.
Not many in the crowd expected anything other than a hard-fought loss by the 21st seeded 23 year-old Petkovic in the end. As it turned out however, on a day the normally-unforgiving Dane let the German off the hook on numerous occasions as Petkovic succeeded in saving twelve of seventeen breakpoint chances, Petkovic took her own chances when they came, and won well in the end, even with a crushing ace on the match point.
Interestingly, both players took it upon themselves to play different roles of teacher (Petkovic), and philosopher (Wozniacki) after when speaking to reporters at the end of the match.
In a post-match press briefing, the victor, Petkovic explained her winning strategy, which could be useful to anyone who might need such tips. Said Petkovic, 'A lot of players try to overpower Caroline, believing that's the only way to beat her, and I think that is a wrong approach. It is difficult trying to overpower her because she (Caroline) is like a wall, and you can't beat the wall. Caroline brings back more balls than any player I have ever played. What I did was to mix it up, and pick the right time to go for the winning shot… Of course, I'm very happy. It is by far the biggest win in my career.'
On her part, Wozniacki, who only eight days before, was winning the Indian Wells title at the expense of Frenchwoman Marion Bartoli in the final, told reporters, 'There are a lot of good players out there, and you can't expect to win every match… When you lose, you realise that you still have a lot of work to do. So you go back to the practice courts, and try to get even better.'
What difference a week can make. Just eight days ago, Wozniacki was winning her fourteenth WTA title, by defeating Bartoli in the final in Indian Wells. Yesterday, both Indian Wells Masters finalists, kissed the Miami Masters goodbye in the fourth round.
In men's action, arch rivals and great friends, third seeded Roger Federer of Switzerland and top seeded Rafael Nadal, each won their fourth round match to move a step closer to a projected semi-final clash.
In his fourth round match, Federer, who is seeking a third title in Miami, defeated the 32nd seeded Juan Monaco of Argentina 7-6(4), 6-4 and will next face the unseeded Olivier Rochus of Belgium (at five feet and 7 inches - tall the smallest man in the draw, if not the entire professional tennis), in the quarter-final. Federer's win over Monaco set a new record in number of matches won on the ATP tour, overtaking American 'Pistol Pete' Sampras's former mark of 762 matches. It is yet another feather in the Swiss master's already embroidered cap of records in a truly illustrious career.
Federer's 763rd win yesterday was anything but a routine win though. When the Swiss created some comfort zone for himself by registering the first service break of the match to take a 2-1 lead, Monaco broke right back for 2-2, before taking the hard-fought opening set to a set-deciding tie-break, which was even at 3-3, before Federer appeared to change gear to win four of the next points.
The second set was not any easier. But just when everyone was adjusting their seats for another possible tie-break, judging by the closeness of every set, leading to the ninth game, Federer pounced on his unsuspecting opponent, who had jumped to a 30-0 lead in that ninth game on his serve.
Soon it was 30-30, then 40-30, when the Argentinian threw in an untimely double-fault, his first in the set. Serving at deuce, Monaco must have been convinced that he had made a perfect decision to rush the net behind a deep and low forehand approach shot. The result? He was passed cleanly. On his second breakpoint of the game, Federer's down-the-line backhand sizzler forced an error from the Argentine, who sent his forehand long. The Swiss thus broke through, and was set to serve for the match, leading 5-4.
Federer needed no further invitation to end the match, doing so on his first match point, when another blistering forehand cross-court forced Monaco to hit his forehand long and wide. Federer next faces Belgium's Olivier Rochus, who upset Russia's Mikhail Youzhny 1-6, 6-3, 6-3.
In another match, world number one Rafael Nadal of Spain, lost the first five points of his match against fellow-countryman, 24 year-old Feliciano Lopez, before steadying the 'ship' to trounce Lopez 6-3, 6-3 to advance to the quarter-final. One break of service in each set was enough to advance to the next stage.
If Federer and Nadal can scale through their respective quarter-final hurdles, they will meet for the first time this year in competitive play. The last time both met was in the final of last December's ATP World Tour Finals at the 02 ARENA in London, which Federer won, although Nadal still holds a comfortable 14-8 career head-to-head confrontations record edge.
In other matches yesterday, Germany's unseeded Florian Mayer upset 11th seeded Nicolas Almagro of Spain 6-1, 3-6, 6-1. Frenchman Gilles Simon, seeded 25the, halted the impressive run of Uruguay's unseeded Pablo Cuevas (Andy Rooddick's conqueror) 4-6, 6-1, 6-2.
In yet another upset, 16th seeded Maria Sharapova of Russia defeated fourth seeded Samantha Stosur of Australia 6-4, 6-4; while Poland's 22 year-old Agniezska Radwanska trounced Italy's Francesca Schiavone, the reigning French Open champion 6-0, 6-2. It was the Pole's first win over the 30 year-old Italian in five attempts.