OMOTOLA AND THE 'LAYING OF HAND': ENEMIES AT WORK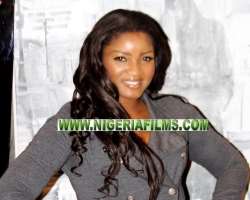 "What did Omotola do? Tell me!!!" … "I know you are just like her and I am not surprised" two friends yelled at each other recently. I was shocked as I tried to referee a disturbing argument over what Omotola wore to Grammy Awards. I am used to argument on celebrities but this one was exceptional. I also asked myself "what has Omotola done that people criticized her so much about what she wore to Grammy Awards.
"Can you believe what people are saying about a woman who has contributed so much to entertainment in Africa?" One of them asked the other one said a presenter on radio told the other one "I bet you don't know fashion. How can she dress like that to Grammy?"
The argument ranged on until the two friends started abusing themselves. Na wah o! Abeg them dey sell pure water for mall of America?
Gist merchants told me that the mistake Omotola made can still be over looked but she walked into a trap.
"Medicine" (That's what I call him); my friend who works with a leading PR firm in Lagos reiterated that point. Going to the Grammy would have been a boost for her career especially now that there is rivalry between her and some people in Nollywood.
That mistake was over blown by her competitors who used every form to trash her presence at the Grammy.
"Niyi, Don't forget that some people are envious of her and they used every means to write rubbish about her just because she is ahead of them. Many of them want to be in her shoes"
"They said she has a big tummy and so what? This is a woman that has four beautiful children and she is looking so lovely. Forget the burgling tummy"
Yes, Medicine would not agree less that the recent outburst of Omotola's appearance at Grammy Awards would affect her style rating and some PR jobs might just swing another way because of the comments.
"What about the laying of hands? I mean on the backside"...Well, lets say it s..t happens sometimes. Another person said most of the people saying what he considered ' rubbish' at Omotola are people who would gladly do it if they had the opportunity. Most guys felt bad that someone would comfortably 'lay his hand' on her booty. Do you how many guys that would do anything just to have Omotola's attention?
See me see trouble o!My friend decided to ask me a mischievous question, "Niyi if you have the opportunity, will you 'lay hands' on that booty or not?" Leave my answer out of it.lol
I checked out my archive and saw that I snapped the photo of a young man who came to Mania magazine launch the other day in Lagos. The young man 'seriously' (look at his face in the first photo) lay his hand on his babes 'bakaasi'...If you your partner have it,then carry go!!!
I have no choice than to agree with 'Medicine' that Omo Sexy's competitors have been waiting for that small mistake to 'humble' her. They really used it but gistmaster bet, Mattew Ekehinde, her pilot husband was not too worried about the whole saga. I just read they celebrated 15 years of the marriage yesterday. If Omotola and her husband throw a party then it would be a way of saying no matter what, we are still rock solid like Olumo Rock.