EAGLES CAN'T AFFORD TO LOSE -SIASIA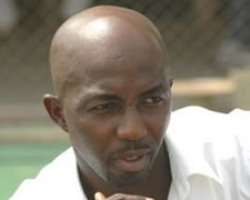 Nigeria's Coach, Samson Siasia, has admitted that his side is 'condemned to win' against Ethiopia when both sides meet this Sunday in a 2012 Africa Nations Cup qualifier in Abuja. Guinea leads the group with a three-point cushion over both countries, with Nigeria second ahead of Ethiopia only on goal difference and Siasia concedes he and his players are aware that nothing short of victory is acceptable 'We are aware of the fact that we are condemned to win the three points at stake in this match not only to close the gap between us and the current table topper, Guinea, but to eventually emerge group leader and the sole ticket winner from the group.
'The players are aware of this and how important the match is to our qualification for the 2012 Nations Cup hence almost all of them have promised to hit Lagos enroute Abuja on Monday,' he said.
But Siasia also warned that it will not be down to the players alone, and has called fans to support the team.
'I want Nigerians in their usual way of supporting us to troop out in large numbers to support us in our match against Ethiopia in Abuja come Sunday. We have mapped out plans and strategies to ensure we achieve a good result which would eventually put us in a good position to fight and eventually win the 2012 Nations Cup ticket.
'We need to start preparations on time and to train as many times as possible in order to perfect our strategies. With the support from all Nigerians, I am confident of victory. We need to score goals and ensure we win convincingly. This is what we have planned to do and with God on our side we will achieve comprehensive victory come Sunday.'