ORJI HAS FAILED ABIANS – APGA GUBER CANDIDATE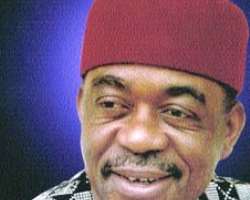 Abia State gubernatorial candidate of the All Progressives Grand Alliance (APGA) for next month's elections, Chief Reagan Ufomba, has described the government ofthe state Governor, Theodore Orji, as a total failure.
Ufomba, who stated this while addressing a large crowd of supporters at the Recreation Club in Aba during the flag off of his campaign, said the present government had no blue print for the state and as such could not proffer any solution to its numerous problems. 
He said there was every need to have a change of government in Abia, stressing that there had not been any improvement in infrastructural development in the state for the past four years, assuring that things would change for the better if he was elected governor next month. 
He described as fallacy the noise about the liberation of Abia State, stating that those singing the song started it when they were not allowed by their party to run for a second term. 'They are talking about liberation because they were not allowed to go for a second term.'  Ufomba said it was unfortunate that the present government no longer allow Abian natives to enjoy their commonwealth. 'They have shut the state government owned radio and television stations, the BCA and indeed other government facilities against the opposition and the relevant enforcement body is not doing anything about it.'
He said the governor's unpopularity had made him to resort to use of military armoured and ferret cars, which he said was a way a of intimidating those he supposed to govern.  Ufomba said if elected governor, he would declare Aba a disaster area and turn it into a trade free zone city like Calabar.  He said he would tackle poverty, corruption and infrastructural decay as he had marshalled plans for the three senatorial areas of the state.
Ufomba, who apologised for starting his campaign late, said it was as a result of the death of his mother, who was buried last week.  He said the plans by the opposition in the state to kill him would not work since, according to him, God had ordained he would be the governor of Abia State come May this year. 
Earlier, the National Chairman of APGA, chief Victor Umeh, had said the leader of the party, Chief Odimegwu Ojukwu, sent words across from his sick bed in London that natives of Abia State should vote for APGA in the coming elections as to enjoy dividends of democracy.