OMOTOLA'S OVERTURES TO POTENTIAL TROUBLE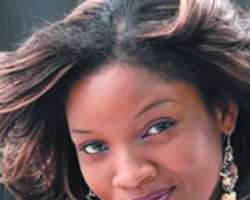 Omotola
As an actress, Omotola has probably seen it all. She has featured in several hit movies and has had her fair share of the not-too-palatable. Lately, the vivacious mother of four has ventured into music . Omotola recently signed a management deal with Bishop Entertainment Consult (BEC) in the United States.
Omotola, who has been involved in charity work earlier, lately visited the 2Pac Foundation where she shared her vision of an Omotola Youth Empowerment Programme (OYEP) through which she hopes to collaborate with 2Pac Center for Arts and Learning in helping to keep kids off the street and making their lives count in Nigeria.
The Centre is an initiative of the late controversial singer's mother, Afeni Shakur, which she launched after her son was shot and killed some years ago in a vicious and prolonged gang war. She met the Director of 2Pac Community Outreach, Dr. Carlos Coleman with whom she's discussing the collaboration . Omotola is expected in the US on June 16 at the 2pac @40 Birthday Concert holding in Atlanta. Other stars expected at the event include Snoop, Outlawz, Dr. Dre, and Dog Pound family.
Omotola dazed 2Pac's mum when she presented her with a gorgeous dress before departing and she reciprocated by presenting her Omosexy with a pair of 'Madamvelli shoes'. BEC also organized a celebrity meet and greet and birthday bash for her at Valley Nite Club in Atlanta. A record 1,000 attended . Omotola answered lots of questions from fans and posed for snapshots with many of them . She was also presented with a $1,600 cake by Mr. Dele Daniel and Mr. Samson , CEOs of Samtex and Valley Nite Club respectively.