YOUTHS'LL DETERMINE APRIL POLLS - BANKOLE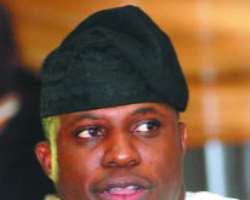 Speaker of the House of Representatives, Hon. Dimeji Bankole, has said that the Jonathan/Sambo ticket has great prospect for integrated youth development. He therefore urged youths to tap into it and make proper use of the opportunity provided.
A statement by the speaker's special adviser (media), Mr. Ebomhiana Musa, quoted him as saying, at the inauguration of committees of the youth wing of the Jonathan/Sambo campaign council, that youth constitute 70 per cent of the nation's population.
The speaker said that with such population, youths would influence the outcome of the 2011 polls.
'We have the vote; that is why the PDP needs us; we constitute 70 percent of these votes. Jonathan/Sambo realises this, hence the emphasis on youth development and empowerment,' he said.
Bankole, who was chairman of the occasion, said youths have the power but are not in charge, adding that most members in the legislative arm of government across the states are youth.
He also noted that members of the National Youth Service Corps (NYSC) have been charged with the responsibility of manning the polls across the country.
In view of this, he said, 'it is therefore, imperative to mobilise a critical mass of Nigerian youth, who are expected to drive the campaign aspiration of the Jonathan/Sambo ticket.'
The speaker, however, cautioned that N50 billion contained in this year's budget for youth development was not meant to be shared. He said that the fund was to create the enabling environment and institutions for youth employment and youth empowerment.
'We have been sharing money in the last 50 years. This has to stop; enough is enough. There must be meaningful developments in the country. Nigeria must move forward and take her rightful place in the comity of nations,' he said.
Also speaking, minister of defence, Adetokunbo Kayode, who was special guest on the occasion, described the speaker as 'father of the Nigerian youths and the most vibrant of the leadership of the National Assembly.'
He said the youth campaign wing should not join issue with anybody, as they are set to go to the field to mobilise for the Jonathan/Sambo ticket, which he described as a good product that does not require much work.
Director of youth affairs of the Presidential Campaign Council, Hon. Dare Adeleke, said one good turn deserves another, pleading: 'I want to use this opportunity to call on our deputy director general to help Nigerian youths to appeal to the party leadership to re-zone the speakership to South West, purposely for Hon. Dimeji Bankole after he might have won the general election.
'We will continue to be proud of your achievements in that hallowed chamber, most especially for the successful passage of the FOI Bill, Fiscal Responsibility Act and other people-oriented bills.'