ORLANDO JULIUS SET TO CELEBRATE 50 YEARS ON STAGE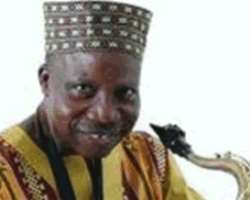 •Orlando Julius
Plans are already in top gear for a bumper 50th anniversary celebrations for veteran entertainer, Orlando Julius. In fact, some major telecommunication providers in Nigeria are now discussing with the organizers of the event, for the legend fondly called OJ, by many. The gathering, which holds sometime this month, will chronicle how Julius has been using the platform of music to promote art and culture of the black race in the last five decades.
Julius' manager, Olusola Adebowale in a statement disclosed that many corporate organizations had shown interest to participate through sponsorship of the coming celebration, adding that the musician had continually used his music as tool to impact the society.
Corporate bodies such as Sifax, he added had shown interest in the project as well as a top telecommunication company in Nigeria. 'The celebration will surely be a huge success,' he stated.
The celebration will take place in Lagos, Ibadan, Osun State, Abuja, Ghana and the UK, respectively. According to the organizers, it promises to be fun-filled with long lasting memories. The celebration will also flag off the AfroHi! in Concert Series, where Afro House of Highlife will organize monthly live concerts with Julius as the lead act. Adebowale further argued that it would be a welcome development if the Federal and State governments could also participate fully in the celebration of Julius now that he's still alive.
'OJ has paid his dues in the Nigerian entertainment industry having spent three quarter of his life to positively mould the minds of people of the world through his music by preaching love, peace and unity among all creations living and children yet unborn. Dr. Julius deserves a national award and full support from the federal, state governments and corporate bodies to make his 50 years on stage a huge success.'
The anniversary begins with the grand final of the National Inter School Music Competition being packaged by Adebowale, and the event will avail students the opportunity of celebrating with the music icon.