Short men are mostly my admirers: Biola Boris, model, who stands at 6ft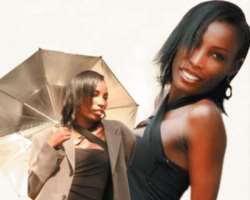 Biola Boris is unarguably one of the sought after models in Nigeria because she is good at her job and has also paid her dues. Biola's most striking feature is her height. She stands at 6ft tall which she says makes her very uncomfortable. For her, 6ft is too much for a lady. Funny enough, when it comes to relationship, short men are mostly attracted to her.
Biola who also said that modeling has been an awesome experience for her, however recalled that the most embarrassing day for her on the run way was when the heel of her shoe broke while strutting her stuff.
In this interview, Biola whose major job is fashion production goes down memory lane with TGIF.
Here are excerpts
Can you give me a glimpse of how you started?
I started at a very tender age and its been a success story, so far I went to LASU for a degree in Industrial Relations and Personnel Management in 2007. I am currently doing Masters degree at UNILAG. Basically, I do run way and fashion production.
I got into modeling by chance. It was after my secondary school and I was seeking for admission into a higher school and I had gone to UNILAG, to check out something ,then, I ran into one Bayo Hasstrop. He asked if I was a model of which I responded in the negative, he said he would groom me. He immediately invited me to an audition at Dakova's place just to see what modeling was all about. I attended just like that. When Dakova saw me, he said, who is that hanger? I am going to use you and someone will train you. He then, introduced me to Modela and from there, the journey started.
When exactly was that?
That was in 2002.
What major jobs have you done?
I have done so many that I can't remember all of them. Both locally and internationally, I have done shows in most African countries, as well. In Nigeria and other places.
With your kind of figure, height and facial structure, it wouldn't be a surprise if you say that people had ridiculed you to a level of embarrassment. Would you like to tell me about it?
Yes definitely, when I was growing up, it wasn't easy at all. First of all, I am a shy person and with my height, I became very conspicuous everywhere I went. I always felt people were looking at me so I formed a habit of walking on the sideways and beside the gutters so that I wouldn't be noticed, yet, people noticed me. But the most painful experience was an incident in the school.
Whenever I was with my friends and something went wrong, they wouldn't bother looking for others. Instead, they beamed their search lights on me because I always stood out because of my height. If it meant punishment, I would be punished, even, if I was innocent. And on the school assembly ground, I was the tallest.
There was a day when we were doing the sanitation exercise, the other girls were all short and I was supposed to lift them up so we could clean the louvers and in the process, one of the girls I lifted up, she rested her entire weight on the louvers crashing the whole lot. Everyone ran away, as they were looking for us, the only person they remembered was that the tallest girl in the school was among the culprits. Such was it for me. I took the blame while my parents paid for the damages.
Was your spirit in anyway, dampened at any point with these brushes of embarrassment?
Yes, of course, a lot happened in the beginning. I was too shy and it almost affected me but thank God, with modeling, my confidence grew. While in school in my younger days, I thought everyone at the bus stop was looking at me which made me uncomfortable and even up till now, I still do feel same, at times. That is the reason I do not wear high heels because I am already very tall.
What is your height?
I stand at 6ft, which makes me rather uncomfortable. I think 6ft is too much for a lady.
How has this affected your relationship with the opposite sex?
Funny enough, short men are mostly attracted to me. Basically, most of my admirers are very short men, although, I get tall ones, once in a while. Those are the bold ones who dare. And I like them extra above the average men that come because short men are known to like and admire tall women.
Given your height, who could your ideal man be?
I don't like short men. I apologize profusely to all the short guys. My ideal man does not necessarily have to be, as tall as I am. I would like my man to be 5ft 7, well built, nice character and most especially, must be God-fearing.
What parts of your body do you love most?
I love my long legs and boobs a lot.
Can you recall the most embarrassing moment on the runway?
I had the most embarrassing moment on the runway when the heel of my shoe broke. It was really bad but I picked it with some style and made it look like it was all part of the show.
Where was that?
It was at the ECOFEST show at ASABA.
What would you say is the mainstay of this job?
It is serious hard work and perseverance. I started with the likes of Ndidi Azubuike and others, most of whom, have left the scene. It is not because they are not good enough but because they left to take on entirely new frontiers. But I kept holding onto the beat, began to improve on what I knew and I am still holding on, in spite of the seeming difficulties and up till where I am now. Currently, I am into fashion production. Within the year, I produce about four shows which helps me a lot. I just returned from the New York Fashion show in USA.
You produced the show?
Yes, but in conjunction with Amina Benjamin.
Can you give me a glimpse of what fashion production entails?
A fashion producer takes charge of the timing for the models to appear and walk on the runway. She takes care of the sequencing, selection of models, selection of fabrics to be used for the show because it is not all the clothes taken to the show that will be allowed on the runway. You see to all these. You also take charge of how the different fabrics would be modeled, how they will be featured and ensure that the clothes are featured in a particular order. She takes charge of the cheorography for each of the segment.
With all you have said, would say that modeling can now be reckoned with like any other professional?
Yes, definitely because I think that presently, for models, their bills are paid as and at when due. And I am proud to say that I am a professional model.
How would you compare modeling before to what is obtainable now?
Before now, I would say that it was more of free show for models and in few instances, where you got paid, you would be owed for a long time. The usual practice then, was models being owed. In some cases, you got to be paid peanuts, paid half of the money or not being paid at all. Now, all that is history.
Are you saying that no one is owed at all, now?
Not exactly so but if you are owed, it is minimal, because you get to be paid about 50/60% of your fee before the show.
One would have thought that you should take to running a modeling agency, why have you not?
Yes, some of my mates went into it but I chose something more technical and a lot more tasking. Fashion production makes me happy and I hope to continue in this course. I know that I lack the patience for sewing and cutting but I have, for over the years, developed a strong passion for the technicality.
Let's talk about your private life. I know you must be in a relationship, can we talk about him?
Yes, he is cool. The most important thing is that he is God-fearing and that makes me happy. A man that fears God will always do the right thing.
When are you likely to walk down the aisle?
I don't exactly know. (Baby, please, propose on time. They are asking when we getting married. Stop wasting time. Please, propose soon)
I remember in 2004 at the Grand Holtel during the ECOFEST fashion show, where I met Naomi Campbell's mother, she said, this girl is gonna give my daughter a run for her money. She instantly liked me so much so that she selected me as the model of the year. It was an awesome experience for me. She kept saying of how so natural. Since then, I have looked forward to seeing Naomi.
Have you ever met her?
No, I have not but I hope that one day, I will. I have always admired her.
I understand that your father is an arbitrator. Did you not think that going into modeling was an affront on your family background?
Sure, it was. My father was a very strict man but I was a bit lucky that by the time, I was growing up and was taking to this profession, my old man had mellowed down. Even at that, I couldn't tell them of my intention initially. With time, they got to know. And like I said, I was enjoying some level of exception because I am the last daughter. My father had cooled down a great deal. Otherwise, if I was the first child, I would have been met with stiff opposition. The age gap between our first daughter and myself, is about 20 long years, so, you can imagine why I got such concession. I think everyone wants to be a model, now.
What informs this impression?
I say so because of the instant success and fame many of the Nigerian girls have achieved. Oluchi and her likes have gone from nothing to stardom.
So, what are the necessary pre-requisites?
First of all, you need what is called audience presence, which is that unique thing that will spot you out from the crowd and would make the on-looker fix your face to something, somewhere. If you don't have this, then, you have no business with modeling. Another thing is height, a unique physical structure and an inner attitude.
Unfortunately, inner attitude is often taken for sheer arrogance. It is self assurance, knowing your self worth and knowing what you want.