WHY THE ARAB REVOLUTION MAY NOT APPLY TO NIGERIA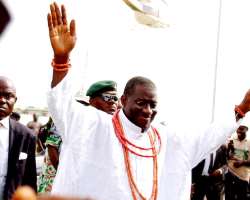 PRESIDENT GOODLUCK EBELE JONATHAN DURING HIS PRESIDENTIAL CAMPAIGN RALLY IN EDO STATE ON MARCH 08, 2011.
Like I have pointed out to opposition groups to the ruling party in Nigeria, the fact that mass protests succeeded in changing governments in North Africa (Maghreb) does not mean that it will work here in Nigeria. This increasing reference to the Arab revolution drawing parallels with Nigeria has emboldened the opposition but it is in itself not necessarily a blessing to our present succession effort via the ballot box. I should like to make two assertions here. Firstly, Nigeria is not an Islamic country even though the country was smuggled into the Organization of Islamic Countries. Secondly, Nigeria has never (and can never be ruled by dictators), with extremist ideas. Nigeria is not a theocracy.
Prior to the Arab revolution, many people have wondered aloud as to why protest driven revolution has never happened here in Nigeria considering the high index of poverty, sufferings and trying times we have gone through as a country. In the last two months we have witnessed the power of the people in these countries starting from Tunisia with the fall of Ben Ali, down to Egypt sweeping away Mubarak and now attempting to shut out Col. Gaddafi of Libya. It is important to examine the structural differences between these governments and Nigeria to comprehend the political dynamics that have advanced revolution particularly in the Arab world at this time. This has become necessary at a time when the opposition parties in Nigeria have become more encouraged to seek electoral success through the uncharted road of this strategy.
Let us look at what happened to Tunisia and Egypt. Both places witnessed peaceful protests that turned violent when the government tinkered with the idea of using force to disperse the crowds paralyzing the economy. The crowd resisted with casualties and international outcry. Then the country decided to limit media coverage but it was impossible in this communication age and so they threw in the towel.
For this to happen, there are basic requirements of the social structure that must be present. First the country must have attained nationhood. It means that there is established and definable citizenship. Secondly there must be a political structure with a definable succession in a constitution even if it is dictatorship. It means that there is a considerable general education about what to expect in the constitution. Thirdly, there is an existing census of citizens, as well as immigrants and visitors. In other words the nation must exist in reality and there is a preponderant value system or national vision that drives the nation in one direction. It is when these ideals are tampered with negatively that can bring about public reaction of a unified devolution. With these basic features, a country would have built lasting institutions to serve as concrete vehicles towards serving its citizens. In other words it is the negation of these institutions values and processes that the populace resents to the point of protests. Not to say that there are no other situations that may result in such spontaneous protests even outside nationhood but it goes to explain the situation that serves as ready mobilization for public gathering to express joy or anger. The irony is that it is these things that remain undone in Nigeria's quest for nationhood that also makes mass consensus towards protests or thanksgiving a mirage.
Let me explain further with the Nigerian illustration here. Since independence in 1960, Nigeria has never run an unbroken constitutional regime for more than a decade at a time. Forget the so called 1999 unbroken democracy. The only true constitution that took us until 1967 was thrown out or made redundant, followed by caricatures put together to get us through each regime. Whenever the constitution failed as we witness even today, the ruling body comes together and finds a solution which tinkers it for that period awaiting another mishap which most likely is pushed to another unfortunate regime to grapple with. Look through history my friend and for once remove your blinkers. Right from the regime of General Gowon, down through General Abubakar, it was the same story of decreed survival enabling successive governments to change programmes and projects to suit their own contraception. What happened when the civilians took power in 1999? Owing to declining scholarship and growing impatience with education, research and information gathering as well as dissemination, the transitional government could not allow proper period of preparation but like we witness today jumped into hurried election and handover made possible by wholesale conversion of military decrees into Acts of the National Assembly. So in essence the greedy civilians who were mostly the returning military in civil clothing only continued this ignoble tradition of coercion but tried to deceive the international community into thinking that changes had come. Look at it yourself. All the same culture of abandoned projects, over invoicing, duplication of contract awards only go to tell you there is no inherent continuity.
Those of the modern political leaders who try to complete abandoned projects like Governor Timipre Sylva of Bayelsa State are often seen as having not performed when in the actual sense they should be congratulated. Others who work wonders have their pet projects abandoned on leaving office because the incoming regime sees these projects as reminder of these people for the populace, rather than to serve the people. There is a road that went so bad in Port Harcourt that people began to wonder why it had been overlooked. Later on someone suggested that the road was given a politically threatening name and that any repairs would only add political capital to the political opposition. I dismissed this view for a while until news came that the bearer of this name had pledged to work with the incumbent. Then as if by magic the road contract was awarded and the contractor started to work day and night to rebuild it. Maybe there is some strong correlation or the other. These are just few solid illustration of the skewed system we run in Nigeria today.
The implication of this analysis on political behavior is that nothing concrete has changed from our erstwhile military experience; if anything things have become worse. For example those few leaders who reject modus operandi may not get things smooth going. We have herewith established the inherent discontinuity in the system. We can go ahead to map its negative effect in our society leading to the abnormal reaction of the people to government. You know by law that you cannot really blame someone not directly connected with a crime except you want to be unfair. Your sense of justice will make you have doubts strong enough to prevent positive action in form of protests to redress the wrong. It is more so when the information environment is heavily controlled or when quality education has declined as a result of the accumulation of these measures over time.
So my friend it goes to instruct us that things may not work out the way it is planned in this polity that defy every logic because of it inherent structural deficiencies. These deficiencies disallow it to properly transmit the national purpose if ever a presently articulated. In the same vein it distorts the manifestation of individual and group volition. In essence, what you want may not be what you get. In the first place it is extremely tiresome to arrive at a national consensus about anything. Without across the board agreement of what is right and wrong how do you build up crowds without paying the people for their time as is the case with the rallies we hold today. Sometimes it is often blame on the dichotomy existing between tribes and religion but it is not true. The religious factor has been over hyped for political expediency by mediocre leadership foisted on Nigerians because power abhors a vacuum. Ask your selves the question, why was a protest more frequent and more feasible during the first Republic when conditions were rather paradisiacal compared to what it is today. During the time of Dr. Azikiwe's struggle with the British colonialists over abridgement of the latter's rights to expression, Nigerian often poured out to the streets to protest in solidarity.
Also recall that Nigerians could protest Awolowo's incarceration for treasonable felony but they are seemingly indifferent to the bigger atrocities that occur today. The point is made that without some stability in constitution and without a national purpose or some citizenship the group or individual volition is not fulfilled in the expected form. To this end it has become more and more difficult to discern what is right from what is wrong. It is also more difficult to determine who is to blame for what when and how. The motivation to protest in an environment where education is degraded, where information flow is hindered, where there is no citizenship or where there is still doubt as the number of Nigerians living or dead, imprisoned or free or incarcerated/ detained; sick or healthy. It is only when we have put priority on what happens to the human element in the context of nation building that we can begin to hope for a vote that count, or for a protest that is purpose driven rather than a rent a crowd gathering. It Is only then that Nigerians will be ready to die for their country the same thing we so much admire and wish to emulate from the Arab revolution playing out before our very eyes.
Disclaimer:

"The views/contents expressed in this article are the sole responsibility of the author(s) and do not necessarily reflect those of The Nigerian Voice. The Nigerian Voice will not be responsible or liable for any inaccurate or incorrect statements contained in this article."
Articles by thewillnigeria.com