ACN Warns President Jonathan Against Use Of State Resources To Intimidate Opposition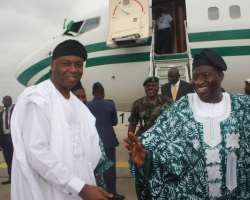 PRESIDENT GOODLUCK JONATHAN IS RECEIVED BY KWARA STATE GOVERNOR, DR BUKOLA SARAKI AT THE ILORIN INTERNATIONAL AIRPORT DURING A STOP OVER ON HIS WAY TO OSUN STATE TODAY, MARCH 03, 2011.
ABUJA, March 03, (THEWILL) - The Action Congress of Nigeria (ACN) has urged President Goodluck Jonathan to abide by his promise not to use the state apparatus to intimidate the opposition ahead of next month's general elections, so that the elections can be free, fair and credible.
''It is instructive that the President was making his pledge during his campaign rally in Ondo State, a day after State Security Service (SSS) officials quizzed our leader, Asiwaju Bola Ahmed Tinubu, in Abujasupposedly over his comments on the soap box,'' the party said in a statement issued in Ilorin today by its National Publicity Secretary, Alhaji Lai Mohammed.
''What has Asiwaju said that President Jonathan has not said more of? Who introduced incendiary rhetoric intothe campaign by abusing a whole people and tagging their leaders as rascals? If that characterisation was not considered inciting, why should Asiwaju's reactions and comments on the campaign trail be a reason to summon him to Abuja for questioning?
''When this development, which is a flagrant abuse of office, is placed against the background of the harassment of the governorship candidate of the CPC in Nasarawa, after the reported stoning of the President's convoy in Lafia, one begins to see a pattern of orchestrated intimidation of the opposition, that flies in the face of the assurances by the President,'' ACN said.
The party warned that today's Nigeria will not be a platform for such a primitive persecution of the political opposition, saying Nigerians are determined that next month's elections will not only be free and fair, but that the processes leading to the polls must also be transparent.
It said the summoning of Asiwaju to Abuja by the SSS was just the latest in well-choreographed acts of intimidation that would have flapped lesser mortals.
''Threats of arrest and prosecution over some phantom foreign accounts that Asiwaju supposedly operated when he was governor have been thrown out there in the media, with the hope of distracting a man whose courage and determination have once again gingered the progressive camp into action to save the country from the big-for-nothing ruling party. When that seems not to have worked, the game plan has now been stepped up a notch by sending the SSS after him. Who knows what this government will do next?'' ACN queried.
R-L: President Jonathan, Governor Saraki and Vice President Namadi Sambo.
The party said there is no doubt that the rising profile of the ACN is sending jitters into the camp of the PDP, but warned that true power belongs to the people, irrespective of the antics of those who find themselves in power today.
''Our party's profile is rising because our message of hope is resonating with Nigerians. Our rallies are attracting huge crowds because the people believe in us. That explains why many of our leaders, including Asiwaju, had to ride Okadas to the venue of our rally in Ibadan, when the packed venue became inaccessible. We did not need armoured tanks because the people protected us.
''If the PDP rallies are floundering, if their crowds are thinning, as was witnessed in Lagos and elsewhere, if they are being pelted with stones in Lafia, and they are leaving trails of sorrow, tears and blood in Port Harcourt, they should blame no one but themselves. The people are simply fed up with empty promises by a party that has frittered away billions of dollars in earnings in the past 12 years.
''No amount of fanciful newspaper or television advertisements can hoodwink a people whose eyes have become wide open by recent events around the world. No good advert can sell a bad product. If their campaign is wobbling, let them go and shore it up. Hounding the opposition can only breed chaos,'' ACN said.
The party appealed to its supporters, many of whom have expressed outrage at the glaring partisanship of the SSS, to continue to be peaceful before, during and after the elections, even as they must not relent in their mobilization of Nigerians to vote massively for the ACN.