I want to put sense in Nollywood's dress sense-----Helen Adegite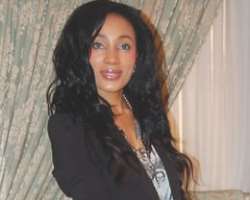 Helen Adegite is a lady with many dreams. She has a hot passion for fashion and Nollywood. The graduate of International Fashion Marketing wants to change Nollywood's fashion for the better. In this interview with RONKE KEHINDE she talks about her plans to own a fashion label and the silly things men tell her.
What do you do for living?
I'm a freelance stylist and I just relocated to Nigeria. I was working in Manchester as an assistant buyer in a departmental store where they sell luxury goods in the U.K. But we have branches in Manchester, and in London. I've just relocated, and I'm looking for a project. I recently went on board to work for Ono Bello on her website magazine, as a fashion stylist and also to work on some of the articles as well on the website.
I am hoping it will be interesting. I've also worked for Sideview magazine. I was the in-house stylist for two years, but I left the company sometimes mid last year. I was working there part-time and I was also working at the departmental store.
Have you ever been a model, because you have the shape?
No, I've never been a model, but I always love to work in a fashion industry since I was a kid; so that's what I decided to do, but not being a model.
Can you tell us your ambition since you were a child?
When I was a kid, I used to pretend that I was dressing my baby dolls up and I always love to have this fancy bag with so many things in them. Not so long ago my mum actually showed me something; she was like: "Helen, see what you crafted when you were about 10". So I had like this chain belt sparkling in the eighties, leggings with shining Lycra stuff. So it has always been in me. I had a background in Fashion; I studied for a BA in International Fashion Marketing and Textiles at the University of Houdos-field in U.K.
What is your passion?
My passion is to have my own boutique, and hopefully in a few years time to have my own label, but not now, just to have like different designers in my boutique. I want mixture of different things in fashion.
Can you tell us your high moment?
Graduating in 2009 in London is my high moment. Hopefully, I will have my masters soon.
What about your low moments?
I lost a good friend through child birth some years ago, and that's quite low for me.
What is your desire in the next few years?
I would love to change the dress sense in Nollywood. I was just telling someone not so long ago that I would love to get on board in the Nollywood industry regarding the fashion, the style, the outlook, because they represent our country. So, I will want to get on board and change a lot of things, because they do need change. We do get a lot of complaints; we complain about the way they style their hair, the way they dress, maybe they don't have enough of budget, or maybe they don't have a lot of people on board to help them with their outlook, so I will love to do that.
That means you are so much interested in Nollywood?
Yes I love Nollywood ladies, the Yoruba ones and the English ones as well, they do need some help there; but the Yoruba movies, I love them. They have a lot of good story lines that make sense, the same thing with the English movie too. I don't have any experience in directing or producing any movie right now, but when it comes to fashion, that's my line and that's what I will love to help them with. Not that they are not doing well right now, but they can do better.
Can you tell us some of your favorite actors and actresses?
I love Rita Dominic, Bukky Wright; she's good and I love her acting.
Can you tell us the craziest thing a man has ever told you?
We do get lots of crazy things, especially in this country, like: "I will kick my wife out for you", I'm sure it's crazy, but they will never do that, it's just silly jokes. There's another one that says "If you become my wife I'll keep you in the house, and you'll never leave the house". That's quite funny to me.
What is your passion?
I'm actually passionate about homeless people in this country. I'm praying that
God should give me the means to change something, because at the end of the day,
I can't change everything but the little I can do I'm hoping that God is going to give me that grace some time. I've been doing the little bit I can, but I will like to do more. You know seeing those kids on the road and streets roaming about, little kids selling water, orange and all sorts, and mothers with babies hawking. That is another thing I will like to work more on in the nearest future.
Where did you grow up?
I was born in Nigeria, Akure to be precise. I grew up in Oshogbo, Osun State; attended primary school there, had secondary school in Ogun State, then I went to the U.K when I was 15. So, I was in the U.K from when I was 15 years till this year.
How was your growing up like?
I grew up in a family of six, two girls, two boys. It was nice, members of our family were very close, and I'm proud to say that I come from the Adegite family from Aramoko, Ekiti State; that's where my daddy comes from.