EAGLES LAND IN AMERICA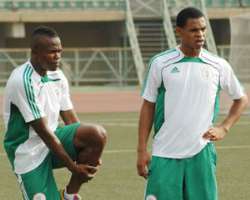 Scores of Nigerians resident in Dallas, capital of the State of Texas were at the Double Tree Hotel on Thursday morning to receive players and officials of the Nigeria national football team, Super Eagles as the delegation landed in the United States of America.
The team of 20 players and nine officials was led by a Member of the Executive Committee of the Nigeria Football Federation, Barrister Olaleye Adepoju, and will play two matches in the invitational United States' President's Holiday Celebration Soccer Tournament, otherwise known as the Green Bowl Soccer Tournament, holding at the Cotton Bowl Soccer Stadium this weekend.
The Delta Airline flight from Lagos had a few hours' stop_over in Atlanta, Georgia before connecting the Texas State capital.
The Super Eagles, with Head Coach Samson Siasia directing affairs, will take to the pitch against their Mexican counterparts at the Cotton Bowl on Saturday at 7pm (1am, Sunday in Nigeria) and the result will determine whether they play the Losers' Final or Final Match on Sunday at the same venue.
Costa Rica and Panama would play the first game of the two double_headers on Saturday at 4.30pm (10.30pm, Saturday in Nigeria). The Losers' Final holds from 4.30pm Sunday (10.30pm, Sunday in Nigeria) with the Final starting at 7pm Sunday (1am, Monday in Nigeria).
Coach Samson Siasia has expressed delight at the eventual staging of the tournament, which had to be whittled down from eight-nation to four-nation, saying it would help his team re-building and re-tooling ahead of the 2012 African Nations Cup qualifier against Ethiopia on March 27.