THE CHANGE, KOGI CENTRAL DESERVES, BY ABATEMI-USMAN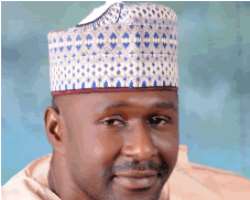 •Abatemi-Usman
Emergence as the PDP senatorial candidate for Kogi Central
I feel overwhelmed. I feel humbled. I feel very lucky to have gotten the ringing endorsement of the good people of Ebiraland in Kogi Central senatorial district to represent them at the Senate. I feel at this very wonderful opportunity my people have given me. I will not disappoint them, if similar wholesome support is accorded me to get the final victory in the main election.
I don't have a godfather
In our particular case, if you recall that I was a Special Assistant to Speaker of House of Representatives, Hon. Dimeji Bankole, you will think that yes, I have some godfathers or at least a godfather. Indeed, I have contacts. We have contacts and that is what makes us political animals. In all my life, I guess I always knew a day like this will come. There are people I met twenty years ago. There are people I met at the feet of learning from my father.
There are people I met in my job as a special assistant to the Speaker. But even at that, I can look you in the eyes and tell you that we had no godfather in this project. All the people we actually thought will come to our aid did not. But because we always knew that in a project of this magnitude, God indeed as in all other projects has a special role. So, we reserved God a special role at all times from the beginning. We were in prayers. We were trusting in Him. We kept faith in him, and indeed God the Almighty proved that with him all godfathers are irrelevant.
Why I want to go to the Senate
I want to be a senator for the simple reason that it affords me an opportunity like no other office at the moment to touch the lives of my people. My becoming a senator will afford me the opportunity to attract the biggest and the greatest amount of attention to my people. Simple! I want to occupy that position just to attract the attention of the government, of the powers that be to the plight of my people. The goodness the office of a senator represents is so huge that we have never tapped 10% of it to transform the zone.
No senator from Kogi Central has ever tapped 10% of the goodness that the office of a senator represents for his people. With my knowledge of the workings of the National Assembly, having had the privilege of working with the Speaker for three solid years, I know that we have not even touched the tip of the iceberg as far as what the people should benefit from those that have occupied that office is concerned. If I am even able to get up to 20% of the potentials of that office and attract them to my good people in Kogi Central, Good Lord, I don't know where we will be at the end of my tenure if indeed we sail through in the general election Insha alah.
My agenda
My main agenda will be two I have so spelt it out to the people. And those agenda will be the full realization of Ajaokuta Steel because of the full potentials it represents for the socio-economic wellbeing of my people. That will be number one. Number two will be the plight of my people as regards shortage of water. In all my life, I am almost forty, I am 39 years old, there has never been water in my place.
|
My mother, and our women continue to wake up at 4am everyday to go in search of water even in the rainy season. That hurts me. So, my two agenda are : to direct the attention of the federal government towards the completion of Ajaokuta Steel Complex for what it represents for my immediate community and the country at large, socio-economically. And two, highlighting and focusing on the water problems of my people and of course every other thing that can bring the goodness of life to my people.
They are definitely going to see in my representation, the much desired change that they have always yearned for. As a young man, I will work to carry my fellow youths along and indeed the entire people of my zone. There shall be a clear shift from those days of thuggery and violence, as we will ensure that everybody has a sense of belonging, which I believe will put an end to the spirit of acrimony among the people.
Money does not win elections
Money doesn't win elections. Money only plays a part in winning elections. Good luck to my opponents. But I ask of God to give me just the guidance and the wisdom to go through this fast. So far, God has not failed us. The good people of Kogi Central have been yearning for a change. They recognized me. They are passionately holding on to me.
They are indeed overwhelming with their show of support and goodwill. In fact, as you talk about this right now, I am almost in tears because I had never known this show of support, this show of love by a people. I have always known that there is an understanding that we never found. The good people of which I seek to represent are most wonderful people. And with this show of love and support, if anybody thinks you can buy this with money, I wish him luck. The people yearned for change. That change is here now. So, good luck to whoever thinks this election will be about money.
Why I am contesting in PDP
It is very simple. Aside the fact that my father is one of the founding fathers, he died as a member of party's Board of Trustees (BoT) in 2000 and I know firsthand that this is not the vision that my father died with.