Basketmouth's double celebration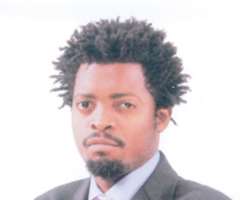 A-list comedian, Basketmouth, killed two birds with a stone last week when he invited close friends, colleagues and family members to dedicate his house, and his first baby.
The stand-up comedian has, in less than five years, risen from a wannabe, to a top, rated entertainer with fans spread across the world and successful comedy series to his credit.
He took a bold step when he decided, early in his career, to dump raping for comedy at a time when comedy was not as lucrative as it has become now. He took another bold step when he decided to go for dreadlocks at a time when most of his colleagues were assuming a corporate image to ensure patronage from bug-budget companies.
Now, the University of Benin graduate has taken yet another bold step. Three months after his lover, Elsie Uzomah, was delivered of their first baby, the comedian gathered all that mattered to him on Saturday August 9 for an official baby dedication. And guess what? He chose the occasion to dedicate his new house too.
The house, said to be worth over N40M, is situated at Remi Olowude street, off Lekki-Epe expressway. And that's where everyone trooped to, after the baby dedication (held at Church for Real, Anthony village, Lagos). Guests at the event included Basketmouth's mentor, Ali Baba, fellow stand-up comedians, such as Jedi, Gordons and Okey Bakassi; as well as Cool FM's DJ Freeze and Kayode Peters.
The property is painted green. Coincidentally, Basketmouth is a serving ambassador for Globacom, whose brand colour is also green.
The comedian's baby is named Jason (which, according to him, is a Greek name that means ''Giver of life''). It remains uncertain if he plans to tie the knots with Elsie anytime soon, or whether the 'couple' are planning to be married at all.