Presidency Refute Report Of Alleged Plot To Return Ibori To Nigeria .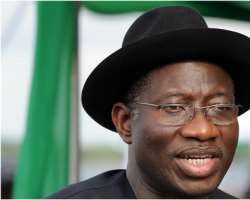 The Nigerian Presidency has said it has not made any overtures to the governments of the United Kingdom ( UK), or the United Arab Emirates (UAE), to have Chief James Onanefe Ibori, former Governor of Delta State , returned to Nigeria to face trial.
  Presidency sources affirm that the report as published by Sahara reporters was the handiwork of some desperate Presidential candidates who have resulted to unusual means to rub tar on the reputation of President Goodluck Jonathan , and tag his war on corruption a huge joke.
The Presidency was reacting to a report that alleged that there were negotiations to ensure Ibori was saved from extradition to the UK, but returned to Nigeria to face trial which would guarantee him a 'soft landing' .According to the report, the Nigeria government was in the process of granting some concessions to British oil interests in Nigeria to ensure the former's cooperation.
Recall that James Ibori, who is being held in a Dubai jail, has lost bids to overturn his extradition to the UK to face trial for money laundering charges . His sister, Christine Ebie, mistress, Udoamaka Okoronkwo and wife, Nkoyo Ibori has all been jailed in the UK for similar offences fuelling a fait accompli for Ibori if he sets foot in London .
Mr. Ima Niboro, Special Adviser to the President on Media and Publicity, , who spoke with our correspondent, Saturday, described the report as false. Continuing, he said 'the president cannot meddle or interfere in the work of the anti-graft agencies let alone negotiate for people who have been found to have looted the treasury'.
In the words of Ima Niboro, 'The report is a foolish report because Mr. President cannot interfere with the work of the anti-graft agencies or negotiate for anyone who has been indicted for corruption, insisting that 'it is a foolish report.'
In addition, a presidency source who elected anonymity, opined that the report is a calculated but desperate one by Mallam Nuhu Ribadu, the Action Congress of Nigeria, ACN, Presidential candidate, whose motive is to create doubts in the minds of the western government about the capability of President Jonathan to fight corruption.
According to the source, 'Nuhu Ribadu wants to tell the world that he is the only one who has the capability to fight corruption, whereas, that is not the case. Being a financial crime fighter and a Presidential candidate are two different things.'
'President Jonathan will not and is too intelligent to go and negotiate for criminals who are on the run and President Jonathan is too intelligent to make such a move now because he does not stand to gain anything from such. Ibori has no electoral value for Jonathan at this time.'
'The entire story is a fabrication of those who want to get power at all cost. In as much as President Jonathan will not engage in character assassination, other presidential candidates should not take such for granted, they should rather showcase their agenda for Nigerians to see.' The source added.