I thank God for making me an 'idiot' —John Okafor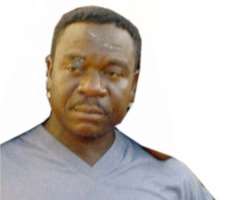 NOLLYWOOD actor and comedian, John Okafor, has proffered a wild twist to the generally held view that comedy is innate in him.
In an exclusive interview NFC in Lagos last week, the man popularly known as Ibu; (Load) revealed rather unguardedly; "It is an idiotic gift that God gave me".
"You can't be serious"? Citytraker thundered back at him, but he persisted: "I am serious. I thank God for making me an idiot. That gift has not only opened so many doors for me but has put a lot of money into my bank account. Same gift has made people to laugh and forget their sorrows. As you have rightly said, I do not try to be funny. Everything about me is funny.
"My talk is funny, my movements are funny, my tastes are funny, especially my taste for food and women.
"I used to be the poorest in my village (Eziokwe, Nkanu West L.G, Enugu State), but now the story is different. I might not be a millionaire presently, but I am comfortable.
You can see that I have used what God gave me to get what I want in life.
But why refer to such ability in making people laugh as a gift of idiocy. Besides, does such gift exist, Citytracker sought to know from certainly one of the three funniest men in Nigeria.
Anybody who is stupid is stupid. It does not matter which other name you call yourself.
Acting career
All is well, only that at present there are lot of problems in Nollywood. The misunderstanding between some section of markets and the Censors Board has affected the business negatively. As you can see, it has also affected me.
Present undertakings
I have just returned from an eight-city tour of Germany. The programme was tagged "Laughter Importation". It was packaged by a Germany based Nigeria, Richmond Igbineweka.
In the course of the year, we will move the train of Laughter Importation to Italy and Belgium before bringing it down to Africa. In Africa we will tour Liberaia, Gbana, South Africa and others.
Laughter Importation is a tight package of drama sketches, stand-up comedy, music and features other Nigerian acts besides me.
They are Maleke, I go dye, Clint de Drunk, Okey Bakassi and Ovie Whiskey.
Others are godfather, Picolo and Shakara.
Marriage
I was married once. I have four children and I am done. I don't want to marry again.
I will continue to have relationships because women contribute eighty nine percent reason for every man's existence and that includes me.
Attraction to the opposite sex
I don't get attracted to any woman except she is beautiful. She must have everything in quantum too.
Advice to upcoming actors
They should not rush it. Put God first. Pray over whatever your ambition. If you pray about it, you will be surprised the results. The prayer might not be answered immediately, but eventually it would be answered.