Berlusconi To Face Trial Over Prostitution Scandal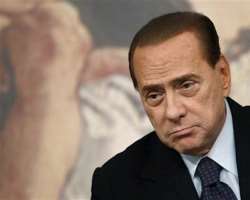 PRIME MINISTER SILVIO BERLUSCONI. PHOTOGRAPH BY REUTERS.
An Italian judge ordered Prime Minister Silvio Berlusconi on Tuesday to stand trial on charges of paying for sex with an underage girl and abuse of office, according to a statement from the judge's office.
Trial has been set to start on April 6, according to the statement from Judge Cristina Di Censo's office.
Though the court date would not mean Berlusconi has to appear in person, the decision is a severe blow to the 74-year-old premier. He has been struggling to recover from a party split which has cost him a secure majority in parliament.
Berlusconi, a billionaire businessman turned politician, has denied doing anything illegal in the case and says he has been targeted by politically motivated judges backed by the left who are determined to bring him down.
Italy's constitutional court last month removed the automatic immunity from trial Berlusconi had previously enjoyed. The prime minister is also due to face trial in three unrelated embezzlement and fraud trials in the coming weeks.
Prosecutors accuse Berlusconi of paying for sex with a nightclub dancer when she was under 18, which is against the law in Italy.
They also accuse him of abusing the powers of his office by pressuring police to have her released from custody over theft allegations.
Berlusconi has dismissed the investigation against him as "disgusting and disgraceful" but he has come under pressure from groups including the Vatican and Italy's main business lobby, Confindustria. Polls show his image has suffered.
The premier has been working hard in recent weeks to shore up his precarious majority in parliament by recruiting deputies from smaller splinter parties and has rejected calls to resign over the affair.
Using material from investigators' wiretaps, newspapers have splashed accounts of "bunga bunga" sex parties attended by would-be starlets stripping and cavorting for Berlusconi and his friends and leaving with bundles of cash and jewellery.