GUBER CANDIDATE PROMISES FREE EDUCATION IN CROSS RIVER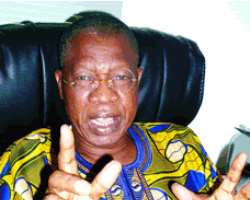 Action Congress of Nigeria (ACN) Governorship candidate in Cross River State, Senator Mathew Mbu (jnr), has promised to provide free, functional and compulsory education in primary and secondary school levels if elected governor in the April polls.
Mbu, who made this known in an interview with journalists in Calabar while reacting to state of affairs in the state, said as part of his plans for the people, education would be top of his four-point agenda to move the state to the next level.
Mbu stated he would harness all abundant natural resources to generate income for the funding of such programme rather than depending solely on federation account, which is fast declining.
His words: 'Definitely, education is going to be my priority. My priority is not going to be more than four areas; we will talk about good roads, we will talk about health, we will talk about education and then a viable industrialisation of the state.'
'We will try at least to give free education up to secondary school level. Then at the higher level we ensure we pay bursary, give scholarships and so on. Education will top my priority if I am elected in the April, 2011 election.' He said the state was blessed with abundant resources that could put it on the list of industrial giants and project a sound economy for the state among other states in the country.
'Unfortunately,' Mbu said, 'the PDP government has failed to harness these resources and has rather chosen to depend absolutely on allocation from the federation account for its development aspirations, which are at the lowest ebb compared to what obtains in other states of the country.'
Accrding him, 'We don't have to solely depend on money from the federation account; right now the account of the state is prostrate because we have no internal mechanism to generate revenue.'
The ACN governorship candidate contended that the state would have nothing to do with poverty.
The governorship hopeful bemoaned the spate of unemployment among the youths in the state as well as failure of infrastructure, which had made life difficult for the people.
Mbu restated his commitment to liberate the people Cross River State from stagnation and poverty if elected and to create opportunities for wealth creation, stressing that experts would be involved in the development process under his administration.