2011: ONLY MASS REVOLT CAN SACK PDP - ABUBAKAR UMAR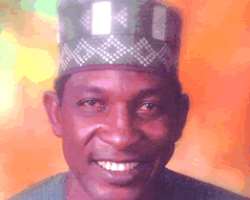 Outspoken Kaduna-based retired Major Abubakar Umar has declared that the North surrendered power 12 years ago, adding that in a typical African setting, it is usually not easy to remove a sitting president.
Umar, who also said that the expected alliance of the three major opposition parties against the Peoples Democratic Party (PDP) would not work, was however, quick to add that only a revolution, like it happened in Tunisia, was the surest way to unseat any sitting Africa leader.
He spoke exclusively to Saturday Sun.
From all indications, it appears the North has lost power, as far as 2011 is concerned. Do you agree?
We have lost it for good. In fact, we lost it since 1999 when we surrendered power to our brothers from the South-West. Even though we did that in good faith, any student of power and politics knows that when power is taken, you don't get it on a platter of gold. So as I see things, Jonathan will win by April.
Why are you so optimistic about your position?
PDP has majority of the governors, and they have returned all of them. Those who are not returning were allowed to nominate their surrogates. So tell me how these people will not work for the success of the party?
That is one. Two, the only major opposition party is the Action Congress of Nigeria (ACN), with a strong followership in the South-West. Congress for Progressive Change (CPC) is coming up, but experience has shown that Buhari's acceptability in the North is only used to win governorship elections. Governors, and other political office seekers, only use him to get to office. It happened in 2003 and 2007. And I tell you, it will still happen this year.
Now, the South-West will want to retain its strong hold, so they may not concentrate so much energy outside the South-West. ACN is not popular in the North and in the South-East; so PDP has those areas. It may lose in mainly the North-West, in about three states or thereabout. So give and take, PDP will still carry the day, because ANPP will also struggle to retain its three states.
Are you saying that the alliance between the CPC, ACN and ANPP, would sack the PDP?
Look, there is a gamut of problems within the CPC. Most of those in the CPC are people who left the PDP and they are not even making any impact. A good example of this is Masari, who lost the governorship ticket in Katsina. Again, how are you sure some of these former PDP members in the CPC are not PDP agents? Look at Marwa, who became an ambassador on the platform of the PDP, suddenly became CPC governorship candidate over night. Come to think of it, Buhari hates corruption; so the people who are even with him in the CPC and outside of it, will not risk having him at the helms of affairs, because he could turn around to jail them. Furthermore, all these members of the opposition are strange bedfellows who will never work for a common goal; so how will the alliance work? It can never work. Let's not deceive ourselves.
Didn't some people try it in 1999 (AD/APP alliance)? How did it end?
Finally and most importantly, money and not religion has divided the North and money will play a major role. So who will sponsor Buhari? Who will invest in his project, when he is not sure of the returns? Again, what happened during the era of Sardauna of Sokoto, Sir Ahmadu Bello, is no longer feasible today. He won in the 60s because he was in firm control of the North. But in April, North will not vote as an entity. We have been polarised ideologically and politically. And as I said, you cannot remove a sitting president, because he has all the money and influence. In the 60s, no party could displace the NPC, which was in control; it was done through a coup.
When (Shehu) Shagari was in charge, he never lost election; even when some northerners wanted (Obafemi) Awolowo to win, in 1983, it never worked, and it was only a coup that sent Shagari packing. Didn't some northerners try to stop (Olusegun) Obasanjo in 2003? How did it end? Look at Cote d'Ivoire. It is a norm in Africa that you cannot remove a sitting president through the ballot box. The only way out is the Tunisian option, where the masses revolted.