INEC Registers 64M Nigerians For April Election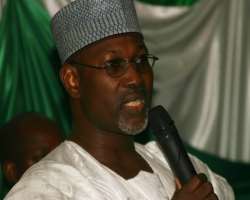 PROFESSOR ATTAHIRU JEGA, INEC CHAIRMAN.
ABUJA, Feb 10, (THEWILL) – The Independent National Electoral Commission (INEC) successfully registered approximately 64 million voters at the end of its voter registration exercise, according to the Chairman of the commission, Professor Attahiru Jega.
Jega said, though the number is 6 million shy of the 70 million estimated target, the figure represents 85 percent of data received from registration centres across the states of the federation. It is however unclear whether the remainder 15 percent would close the gap.
The Chairman made the voter registration data public during his key note address at a function jointly hosted by the Transition Monitoring Group, NDI, TUC, NLC, FOMWAN, CDHR and JDPC.
The electoral commission had earlier set aside February 14 through February 18, as days for the display and verification of registered voters countrywide.
Speaking on the topic: "Nigeria 2011 Elections: Building Confidence, Enhancing Credibility," Jega said the commission was impressed by the huge number of participants in the just concluded registration exercise.
"We have been surprised by the level of turnout and the large numbers that registered in the end. I wish to appeal to all Nigerians to also turnout in large numbers for the verification exercise that will take place from 14th to 18th February. The list will be displayed in all polling units during the period for the public to register their claims and objections.
"This is therefore an opportunity for people to deal with irregular entries in the Register. Perhaps, you know an underage registrant or somebody who procured double registration or any other fraudulent practice.
"This is an opportunity to tell the Commission and we promise to deal with such cases expeditiously according to the law," Jega stated, adding, "In fact, with most of the data now reported by the States, we have by this morning registered 63,981,460 Nigerians for the coming elections."