INEC Admits Mistake On Ban Of 20 Parties, Unbans 12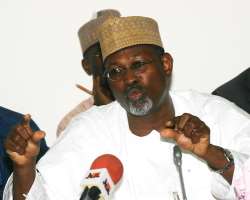 ELECTORAL COMMISSION CHAIRMAN, PROFESSOR ATTAHIRU JEGA.
SAN FRANCISCO, Feb 04, (THEWILL) - The Independent National Electoral Commission (INEC) has admitted the submission of Forms CF001 and CF002 by 12 political parties that were earlier rejected for breaching the 6p.m. deadline on Monday, January 31, 2011.
The commission rose from its meeting today where it finalized work on the list of parties and candidates for the April general elections.
This gesture the commission said is in magnanimous reconsideration of the enforcement of compliance with deadline, to allow for maximum inclusiveness of the democratic space.
A statement by Director, Public Affairs, INEC, Mr. Emmanuel Umenger, said eleven parties had all their nominations, which were previously rejected, admitted.
The parties include the African Democratic Congress (ADC), Progressive Action Congress (PAC), Advanced Congress of Democrats (ACD), Action Alliance (AA), Justice Party (JP) and Nigeria Advance Party (NAP). Others are the Freedom Party of Nigeria (FPN), Democratic Peoples Party (DPP), Kowa Party (KP), Nigerian Peoples Congress (NPC) and National Majority Democratic Party (NMDP).
Also, the Movement for Democracy and Justice (MDJ) had its nominations for Gombe State, which were earlier rejected, admitted.
INEC said it hopes that political parties would henceforth adhere with stipulated deadlines in the Schedule of Electoral Activities.