FAMILY DECRIES RELEASE OF SON'S KILLERS FROM DETENTION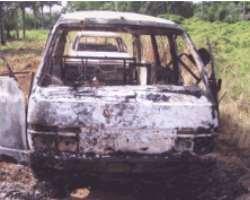 Members of Ashade family, in Ado-Odo area of Ado-Odo/Ota Local Government Area of Ogun State, have accused 'powerful people', of securing the release of six suspects who allegedly killed one of their sons, Kabiru Ashade, from detention.
The family also appealed to the police and the judiciary, to ensure that the alleged Kabiru's alleged killers are brought to justice, to serve as a deterrent to other troublemakers in the town.
The victim was allegedly murdered in Akagun village last year with three police patrol vans were set ablaze, when a team of policemen and some members of the family went to execute a Supreme Court judgment. The action of the alleged attackers and those, who facilitated their release from detention is making the family to wonder, if they are above the judgment delivered by the apex court.
There has also been uneasy calm in the area, following the release of the suspects who were also alleged to be fueling crisis in the town. The freed persons were alleged to be among the 13 persons arrested in connection with the murder. An Agbara Magistrate Court, presided over by Magistrate O.O. Ojo had last month ordered the Ogun state police command to release the six suspects.
Daily Sun was also told that since the judgment, which led to their release from detention, the residents had been living in fears. They have also expressed concern about possible breakdown of law and order in the area as a result of their release.
The head of Ashade family, Imran, accused some influential people in the area(names withheld) of using the judiciary and the media to effect the release of the suspects, who are standing trial over the murder. He said: 'We know the court will not be intimidated by these people, who want to ensure that the killers of our son go scot-free."
Also, the release of the suspects have worsened the already frosty relations between the Eguns and a section of Yoruba in Ado-Odo community. Daily Sun gathered that the current crisis may not be unconnected with a large expanse of land, which had been a subject of litigation between the Eguns and some Yoruba indigenes in the community.
Obaship tussle in the town had earlier resulted in the killing of many people and destruction of property worth millions of naira. Reacting to their release, police described it as a setback, but assured the residents of protection of their lives and properties.
A police source has confirmed that the suspects were being prosecuted over attempted murder of policemen and arson.