IAN THORPE CONFIRMS SWIMMING COMEBACK FOR 2012 OLYMPICS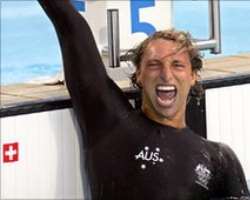 Thorpe celebrates one of his victories in Athens in 2004
Five-time Olympic champion swimmer Ian Thorpe has confirmed he will come out of retirement in a bid to compete at the 2012 Olympics in London.
The 28-year-old Australian retired in 2006 and had denied several reports of a return to international swimming.
Thorpe said his decision came after visiting the swimming venue in London, describing it as "extraordinary".
The "Thorpedo" won three gold medals at the 2000 Games in Sydney and added two titles in Athens four years later.
Thorpe told a news conference in Sydney: "It hasn't been something I've taken lightly, I made the decision last September.
"I went to see the swimming venue for the London Olympics and it's an extraordinary venue and I could taste it, which is something I haven't felt for a very, very long time.
"I didn't get back into the pool to get fit, I got back into it for [no] other reason to get back into the stage where I could compete at an elite level."
If Thorpe wants to swim in London, he will need to register for Swimming Australia's drug testing regime by the end of May in order to take part in his country's Olympic trials in March 2012.
In addition to his Olympic success, he claimed 11 world titles and 10 Commonwealth Games gold medals, six of which he won in Manchester in 2002, and set 13 long-course records
Thorpe's manager Dave Flaskas told a Sydney newspaper last month that the swimmer had been using the pool to help in the rehabilitation of a shoulder injury.
He added that it was apparent Thorpe still had "competitive juices".
Australia head coach Leigh Nugent said getting Thorpe up to scratch for his favourite 400m freestyle event in time for London "would be a big ask, but I wouldn't say he couldn't do it".
Nugent told The Australian newspaper: "You would think he would be able to become competitive again in the 200m, although he would have to approach it differently from the way he did in the past.
"If he's going to have a crack he's going to have to do it quickly."