Live From Asaba: PDP Delta North Senatorial Primaries Re-Run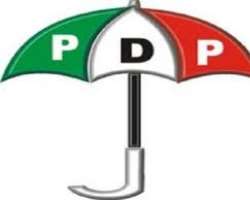 The People Democratic Party Delta North Senatorial rerun election began this morning in Asaba, with the necessary accreditation, delegates casting their votes in support of their candidates. Dr. Cairo Ojuigbo and Bar. Adigue, two of the candidates who participated in the earlier primaries on 11th January 2011 , withdrew their candidature.       The arrival of Bar. Nwaboshi, the chairman of PDP in Delta state at the venue, caused uproar amongst the delegates. Recall that Bar. Nwaboshi single handedly voided the last primaries election.     
Upon his arrival, Nwaboshi insisted that the list being used by the electoral panel was not the authentic list; his assertion angered many of the delegates, who were already casting their votes, consequently he was shouted down, not before a minor fracas ensued. There was allegation of gun shot at the venue of the primaries.      
  Moments later, Mrs. Ahmoudi Alli, arrived the venue of the primaries, as if reading from the same script as Nwaboshi, said, the list the election panel has, was not authentic, she affirmed that Mr. Nwaboshi must be present at the primaries.      
 
Spokesperson for the PDP electoral panel from Abuja , insist that the list was authentic, and that if any body has issue with the list, they should take it up with the party headquarters in Abuja .                
Election Continues: Ukwani LGA currently voting